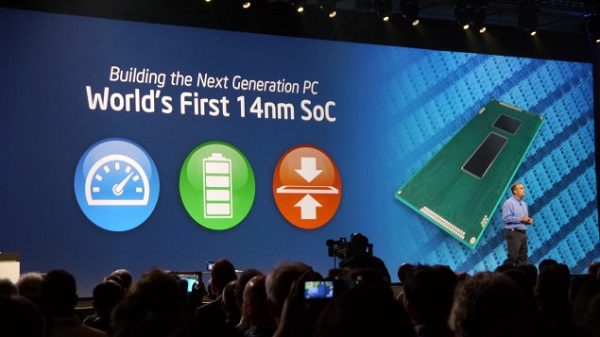 A day after rival AMD unveiled new processors aimed at datacenters and embedded devices, Intel countered with a datacenter-optimized version of its Ivy Bridge processor and the first commercial x86 chip built with circuits a third smaller and denser than Intel's previous best. "This is it folks,"
Intel CEO Brian Krzanich said during his keynote speech at the Intel Developers Forum
in San Francisco Sept. 10. "Fourteen nanometers is here, it's working, and will be shipping by the end of this year." The
14nm chip is based on Intel's existing "Broadwell"
architecture due to hit the market by the end of 2013. The new version is built on circuits a third smaller than the 22nm used in the
Ivy Bridge processors Intel introduced in April 2012.
But demoing a 14nm chip doesn't mean Intel is finished with 22nm. On Sept. 4, the company announced a chip designed specifically for datacenter microservers based on its 22nm "Silvermont" architecture. The 64-bit Atom C2000 System-on-a-Chip (SoC) takes Intel a step further ahead of AMD in the market for microservers, a market Intel invented with its Atom processors and in which it hasn't seen much real competition,
Gartner analyst Sergis Mushell told PCMagazine.
Whether macro or micro, Intel is ahead in both technology and market share for datacenter servers, Mushell added. AMD partner ARM has the edge in both 32- and 64-bit processors designed for datacenter networking and storage hardware, largely due to an ability greater than Intel's to tailor its silicon to the specific demands of other types of hardware.
Intel revealed in July that it was working on a 14nm version of Silvermont
as well as three other classes of 14nm chips also designed for processors. The first Broadwell chips will begin production by the end of 2013 and will be the first to use Intel's new 14nm manufacturing process, Krzanich said. His speech yesterday was the first public demonstration of the 14nm Broadwell, which is designed for higher performance and lower energy requirements, specifically for use in ultrabooks and all-in-one PC designs. Krzanich also announced a second generation of the 64-bit Atom C2000 line of SoCs that is code-named "Avoton," and designed for microservers and datacenter storage devices. Another version, code-named "Rangeley," is designed for networking gear. Both Avoton and Rangely are part of Intel's push for Software-Defined Datacenter (SDDC) technology based on processors designed specifically for heavily virtualized environments, and to build up Intel's stake in the market for high-density and high-performance datacenter servers, which is growing even as the
market for more general-purpose servers declines, according to market-researcher IDC.
Both Intel and rival AMD are pushing hard to expand their minority market shares in the smartphone and tablet markets, both of which are growing faster than the slumping market for PCs.
Intel's plan to modularize and virtualize datacenter hardware even further
by separating memory, processors, storage and other computing resources into separate racks and build virtual servers using its just-announced
1.6Tbit/sec MXC optical interconnect
is described by analysts as more ambitious than AMD's more traditional product plans. Intel President Renee James defended both Intel's leadership in microprocessors and the frequent suggestions from analysts that the industry is approaching the point that it will no longer be able to shrink circuit sizes enough to keep up with predictions of Moore's Law. "Moore's Law has been declared dead at least once a decade since I've been at Intel," she said. "We have 14nm working and we can see beyond that. I assure you [Moore's Law] is alive and well." Intel still expects to be able to build on circuits as small as 7nm using conventional materials. Krzanich said Intel, like every other chipmaker, is doing a lot of research using graphene, the metamaterial considered by many to be the best bet for processors too sophisticated for silicon. Krzanich said graphene is too little understood for commercial production. He predicted transistors, microprocessors or other parts made from graphene won't show up during the next few years or in the next several generations of microprocessors.
Image: Intel. Corp.