Ever wondered how many people used the Internet in 2011? Or how many websites are online right now? Well,
pingdom
last week published a big list of Internet stats for 2011. The stats were collected from a various list of websites.
Internet Users
There are 2.1 billion Internet users worldwide, according to internetworldstats. The Asian region leads with 44 percent, followed by Europe with 23 percent and North America with 13 percent. China is the country with the most Internet users in the world: 485 million. Of course, this isn't surprising since the country has a population of 1.3 billion. There are 591 million households with fixed (wired) broadband subscriptions.
Mobile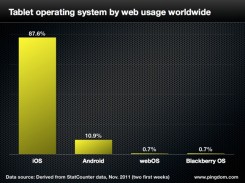 The worldwide estimated number of mobile users reached 5.9 billion, and 1.2 billion of them have mobile broadband subscriptions. In 2011, 85 percent of the mobile handsets that were sold included a web browser. Speaking about browsers, in December, iPad's share of global tablet traffic reached 88 percent, smashing Android browser, which only had 10.9 percent.
Websites and Domains
There were 555 million websites online, at the end of last year, and 300 million were added in 2011. At the same time there are at least 220 million domain names registered worldwide. The ".com" domain leads the rankings with 95.5 million, followed by ".net" with 13.8 million and ".org" with 9.3 million domain names.
Email
There are 3.146 billion email accounts worldwide, and 27.6 percent of them are using Microsoft Outlook as a client. The average corporate user sent 112 emails each day, but unfortunately 19 percent of it was spam. Hotmail was the largest email service in 2011, used by 360 million users worldwide.
Social Media
Facebook is by far the biggest winner of 2011. They added 200 million users and reached 800 million active users. According to
Facebook
, 50 percent of their active users log in each day and 350 million users log in using their mobile devices. Twitter is the runner up with 225 million accounts, but with a staggering number of tweets per day: 250 million. An interesting fact about Twitter is that 18.1 million users follow pop star Lady Gaga. Wordpress, another major social platform was used by 70 million users and Tumbler by 39 million users at the end of 2011. The total number of social networking accounts worldwide reached 2.4 billion in 2011.
Videos
YouTube, the biggest video sharing website had 1 trillion number of playbacks last year and a video market share of 76.4 percent in US. A total number of 48 hours of videos are uploaded on YouTube every minute. Overall, there are 201.4 billion of videos viewed online each month and 88.3 billion of them are on Google and YouTube.