If you're any kind of gearhead at all then you spent a good slice of time last Wednesday following the tidal wave of up-to-the-minute news about Apple's stunning new iPad. Now that we're past the hype stage and into the backlash stage (soon to be followed by the backlash to the backlash stage, of course), it's worth asking one really interesting question: will the iPad find a happy home in the business environment?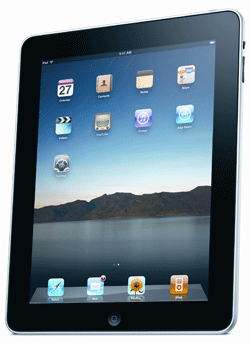 Steve Jobs didn't have much to say on the topic other than to point out that the iWork software suite will be available, as will an optional keyboard for easy typing, two things that business users would have to have. But whether the iPad is inherently suited for business is up for debate.
Yes, says Paul Boutin at VentureBeat. One person he interviewed noted that the iPad "is poised to change how mobile workers conduct business. It¿s more mobile than a laptop, more powerful than a smartphone."
Computerworld splits the difference, finding boosters as well as critics who note that Apple talks about killing off the netbook, but IT doesn't like netbooks anyway. IT is also wary of Apple's proprietary philosophies, which can lead to fewer product choices and higher prices.
BusinessWeek says everything depends on software development but finds a Gartner analyst who says that, "Apple has been widely criticized for not paying enough attention to core business foundation needs in the areas of security, management, and telephony." True. iPhones are not popular with the IT department.
InformationWeek notes the convenience factor. "For travel, both business and personal, there's a lot to be said for the lightness of the device. The iPad's limited local storage mitigates the chance of a data breach should the device be lost or stolen. Far better to have a $500 iPad disappear then a $3,000 MacBook Pro filled with sensitive files."
And InfoWorld comes in on the downside, complaining about of lack of security and manageability features.
There's plenty of time to discuss all this. The first iPads won't ship before March 27th.
--Don Willmott