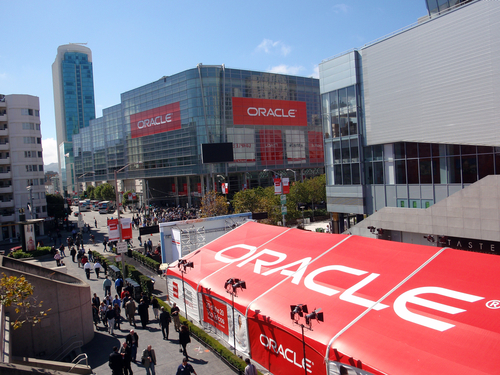 For anyone with a major investment in Oracle, the past few days probably haven't been an occasion for breaking out the champagne: the company's stock has tumbled in the wake of a weak earnings report. Oracle's revenues for its fiscal 2013 Q3 were down 1 percent, to $9.0 billion, while new software licenses and cloud-software subscription revenues dipped 2 percent, to $2.3 billion. While Oracle executives did their best to frame the performance as a brief anomaly, analysts took a more pessimistic view. "For a long time they've held firm on pricing for maintenance, which is their highest margin business, and they've really stuck it to their clients," Peter Goldmacher, an analyst with Cowen and company,
told Reuters
March 21. "Now that you have an ever-growing raft of alternatives, more and more traditional customers are availing themselves of those alternatives." Others shared that view. "TBR maintains that Oracle will continue to face escalating challenges from competitive mainstays SAP, Salesforce.com, IBM and Microsoft—particularly as Oracle looks to escalate its cloud presence," Elizabeth Hedstrom Henlin, an analyst with Technology Business Research, wrote in a March 20 research note. In order to fend off those challenges, she added, the company will need to do what it's traditionally done best: target cutting-edge firms for acquisition, and then effectively blend those firms' assets and people into the Oracle mother-ship. Oracle's acquisitions of
Acme Packet
and
Eloqua
could help augment its overall cloud strategy. "Oracle's continued attention to and investment in the Oracle Cloud will be benefited by Acme Packet's infrastructure—as increased alignment and resonance with service providers will create new opportunities for Oracle to displace cloud competition such as Microsoft and VMware," Henlin wrote. "We believe that the addition of Eloqua to Oracle's cloud portfolio has materially expanded the reach and scope of Oracle's public and hybrid cloud offerings." For years, Oracle relied on selling companies a complete stack of integrated hardware and software products. While it earned enormous profits in the process (and made CEO Larry Ellison an extremely rich man), the focus on selling hardware and software as a package made it vulnerable to a new wave of cloud providers, including Amazon and Salesforce, which offered similar capabilities without the need to buy expensive on-premises infrastructure. In 2012, Oracle veered hard for the cloud. That summer it unveiled the Oracle Cloud, loaded with enterprise-grade applications-as-services, and made strategic acquisitions and investments with an eye toward becoming a significant player in the Platform-as-a-Service (PaaS), Infrastructure-as-a-Service (IaaS), and Software-as-a-Service (SaaS) arenas. But that strategic shift left Oracle in a somewhat odd position: not only does it face a wide array of large and small competitors in the cloud space, but it needs to make its presence felt in cloud while maintaining (if not expanding, given Wall Street's hunger for revenue) its legacy business in on-premises hardware—a business that the cloud is helping erode.
Image: Eric Broder Van Dyke/Shutterstock.com