[caption id="attachment_9238" align="aligncenter" width="587"]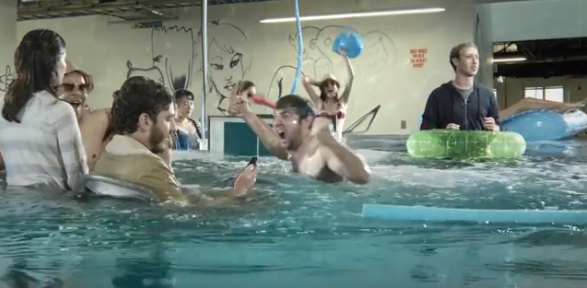 Yes, they actually filmed this.[/caption] The marketing campaign for
Facebook's Home app
has kicked into high gear, with
a minute-long ad spot
that shows off the social network's ability to distract users from the world around them. Facebook CEO Mark Zuckerberg plays a starring role in the ad, extolling the virtues of Home to his employees as goats, bellowing swimmers, and go-karts alternately scream, dive, and race through his company's headquarters. Who said he didn't have a sense of humor? If everything goes according to Facebook's plan, Home will play an auspicious role in deepening the social network's presence on mobile devices. The app (only available for Android at the moment, although rumors persist of an iOS version sometime in the future) converts a smartphone's lock and home screens to display a modified version of the Facebook news feed; it also offers a variety of Facebook-centric apps, including "Chat Heads," a messaging system that sprinkles the screen with little icons of friends' heads. Facebook needs to keep its mobile revenues on the rise if it wants to maintain the sort of fiscal growth demanded by Wall Street. But the company is seeking other monies, as well:
according to AdAge
, there are plans to introduce video ads as part of the service, with a hefty asking price of $1 million per daily slot. "Though setting up an upfront marketplace to let agencies reserve video inventory could help stir up demand for Facebook's video ads, the current price tag is likely to be a barrier to entry," the publication concluded. Facebook itself declined to comment. If Facebook manages to earn truckloads of cash from its mobile and video-ad efforts, it's because there's an ongoing belief among advertisers and businesses that social media offers a value worth those premiums. But is that truly the case?
What Use Does Social Networking Actually Serve?
"Social" has evolved into the buzzword to end all buzzwords. At some moments, it seems as if every person and business on the planet is under intense pressure to link in some way to a social network, whether Twitter, Facebook, Pinterest, Google+, or whatever else might rise up in the next few years. In the case of businesses, it's promised that a presence on social networks will translate into "increased audiences" and "amplification," with all the rewards that presumably come with that. But here's Problem Number One: social networks, despite their common mission of linking together human beings, aren't yet smart enough to differentiate whether the entities posting on their systems are actually living, breathing organisms. Within seconds of a newsworthy event, an army of wits charge onto Twitter to set up joke accounts around that event's pivotal figures: the Bronx Zoo Cobra, for example, or the empty chair harangued by Clint Eastwood at last summer's Republican National Convention. And it's a bigger problem than a few people trying to score a laugh: last year,
CNN estimated
that roughly 83 million Facebook accounts are fakes or dupes; on Twitter, there's a healthy traffic in
buying thousands of "followers" at a pop
, and it's a stretch to assume even a portion of those are accounts controlled by actual humans. Then there's Problem Number Two: Impact. Last year, General Motors caused something of a stir when it decided that ads on Facebook were an inefficient way to sell cars, and pulled its marketing dollars from the social network. "Facebook's ad model is nascent, its utility to brand advertisers mostly still unproven," read a June 4 piece on
AdAge
at the time, "and no one really knows how to measure effectiveness on Facebook beyond valuing a 'like,' a share or a click-through." But GM came back to Facebook earlier this month, using ads to sell the new Chevy Sonic. "The GM decision to pull ads called to light the improvements Facebook needed to make in a very public way," said Jeff Lantcot, global chief media officer at Razorfish,
told AdWeek
. "Though at the same time, I think Facebook was already on the road to improve its marketing products." Does that mean social networks are a mature form of advertising? That's the question, and one that's difficult to answer: although many brands maintain a presence on Twitter, Facebook, and Google+, it's harder to determine whether that translates directly into cash. As more than one wit has said over the years, a "Like" isn't the same thing as a dollar. Problems One and Two don't just affect advertisers; those who hope to analyze social networks for emerging trends could also find their results skewed. Picture a startup with an analytics package capable of determining Twitter and Facebook sentiment—large numbers of dead or false accounts could result in an unacceptable signal-to-noise ratio. How can someone determine how much to spend on a Facebook advertising campaign if the suspicion exists that a thousand "Likes" have been generated by a bot? Problem Number Two also compounds things, by limiting the ways that certain actions and strategies can be measured; dollars and cents are often the easiest way to determine if a plan created via data analysis is actually working. Social networks realize these are issues, of course; that's why Facebook, for example, is so determined to weed out fake accounts. Even if those issues are cleared up, though, there's still the lingering suspicion that social networking is a shell game for advertisers and those who hope to profit from its data.
Image: Facebook