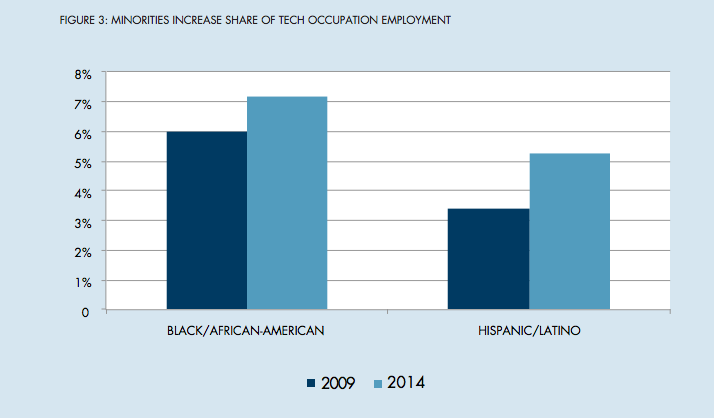 For the past few years, pundits and analysts have decried a lack of diversity in tech.
Recent surveys
paint a picture of a tech industry that is overwhelmingly white and male, especially when it comes to developers and executives. Despite that data,
a new report from the Progressive Policy Institute
suggests that the tech industry, by virtue of creating thousands of jobs over the past five years, is actually an economic engine for a variety of demographic groups. How does the Institute arrive at that conclusion? By analyzing how many jobs the tech industry has created for college graduates since 2009. "The opportunity tech jobs are creating for non-Asian minorities defies conventional stereotypes," read the introduction to the report. "That's because the tech/info jobs boom is much broader than in Silicon Valley. Tech jobs are increasingly found across all industries and the country." (Just for clarity's sake, the Institute defines a "tech job" as "all computer and mathematical occupations across industries, [including]
computer systems analysts
,
network architects
, and
statisticians
.") Between 2009 and 2014, according to the Institute's reckoning, the tech industry added 730,000 college-educated workers (almost as many as the healthcare industry, which is considered one of the country's main economic drivers). During that period, the number of black, college-educated tech workers increased by 79,000, or 58 percent, while the number of Hispanic workers rose by 81,000 (a leap of 103 percent). But not everything is rosy. "Our analysis also highlights some… bad news," the report continued. "Women are not equally sharing in the tech jobs boom, accounting for just 26 percent of the college-educated tech job growth over 2009-2014." Science-minded women, it added, "are disproportionately choosing healthcare-related majors, such as biology and health sciences, over computer and information sciences (CIS)." The Institute's report concludes, in typical think-tank manner, by asking for more policies at a federal, state, and local level to encourage "more women and minorities to pursue tech careers." Whether or not governments institute those policies, tech firms such as
Apple
and Intel have
pledged to redouble their attempts to create more diverse workplaces
.