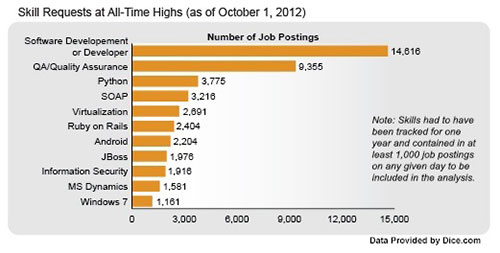 Demand for software developers and the QA folks who check their work were among the most sought-after skills in Dice's job postings as of October 1, the company says.
Software development is beyond compare in today's job tech job market. Even if you are not an engineer - many hiring managers want candidates to have a thorough understanding of the software development lifecycle. More development equals more QA or ensuring a project, product or service meets certain standards and satisfies requirements.
One interesting story that comes out of the numbers regards open source postings: Python and Ruby on Rails both hit new highs in six of 10 months this year, ranking No. 3 and No. 6 respectively. JBOSS ranked No. 8, posting year-over-year growth of 10 percent. Meantime, postings seeking virtualization expertise hit their all-time high, as well.