By Chandler Harris
Science and technology often go hand in hand, but nowhere is that more evident than in biotechnology. More than ever, the field's research and innovation is being driven by tech's increasing power. Because of this, IT professionals are in high demand to create programs, algorithms and generally make sense of the vast stores of data being created, aggregated and mined.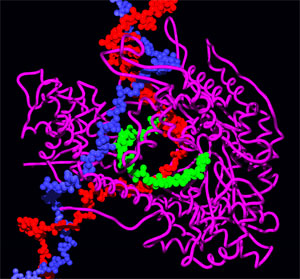 "We've been talking about the intersection of IT and life sciences, but I feel now that message is hitting home," says Kevin Davies, chief editor of Bio-IT World, a biotechnology industry magazine. "The main reason is the volume of data that life science groups, academic research and biotechnology companies produce has exploded."
The Tech Jobs in Biotech
U.S.
employment in bioscience reached 1.42 million in 2008, an increase of 19,000 jobs since 2007, according to BIO.org. Southern California, and particularly San Diego, saw a 5 percent growth in biotechnology jobs in 2009, with many of these positions technology-related, according to Joe Panetta, president and chief executive of the trade association BIOCOM.
"IT skills apply across the board with biotechnology," Panetta says. "There's so much more IT in biotechnology today than 10 to 15 years ago because of advances in software programs, databases of information, and a wealth of information that has become available over the last few years."
Biotechnology companies are keen to find IT professionals with a science background, especially software engineers who can create algorithms and programs to make use of the scientific data being collected, Panetta observes. Also, the predictive and analytical realms, such as bioinformatics - the application of computer science in molecular biology - is a growing area utilizing technology.
The biotechnology and life sciences sectors pay higher salaries than the average private-sector job, with an average annual wage of about $71,000, according to Bio.org and Battelle.
Varied Needs
At Novartis Pharmaceuticals, IT professionals are needed to create and manage tools related to data capturing, data analysis and predictive analysis. They should have a solid understanding of the biotechnology industry and FDA regulations.
"Now it's about using knowledge more effectively, computational intelligence and making it real-time - all that has driven growth in IT in biotechnology,"
says Ken Grady, senior director of IT at Novaris.
Technology is helping pharmaceutical companies mine research data and utilize computational science to make better and safer predictions for the development and advocacy of new drugs, Panetta says. The convergence of biotechnology and IT has also enabled scientists to detect disease more accurately through diagnostics combined with informational science.
Southern California
's concentration of technology and biotechnology companies has spurred a number of technology companies to produce innovative products, including wireless health devices, such as "smart IV pumps" and "smart band aids" that transmit individual health information to smartphones and physicians.
Other trends include the use of cloud computing to store and manage scientific data, as well as cyber security to secure it. There's also increasing growth in industrial biotechnology and biofuel development, where technical expertise in agricultural and crop management systems is in demand
.
In Massachusetts, another center for biotechnology research and development, computer software engineers that build system software is the second-fastest growing job in the field behind medical scientists, with 27.7 percent job growth predicted from 2006 to 2014, according to the University of Massachusetts Donahue Institute. The region also expects an ongoing demand for computer systems analysts and computer software engineers for applications.
The Janelia Farm Research campus at the Howard Hughes Medical Institute in Chevy Chase, Md., has one of the world's fastest computers - and complementary IT staff - for its biotechnology research. HHMI needs
IT professionals to help develop software to automate

processes, identify features, mine data and create software and algorithms for such things as 3D imagery of complex brain structures.
"One of the things I would say is that the biotech research community is embracing the idea that computer scientists are an integral part of a team," says Vijay Samalam, director of scientific computing at Janelia Farm.
Chandler
Harris writes about business and technology from the San Francisco Bay area.