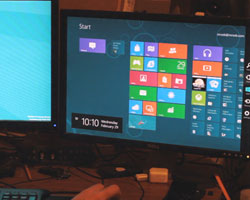 We don't know yet if
Windows 8
will be one to skip, but Microsoft's release history leads me to believe it will be. Since Windows 98, every successful OS released by the company was followed by a dud. But Microsoft has bet big on 8 by completely revamping the UI and building hardware to support it. By all accounts it Windows 8 runs most everything that 7 runs in both 32 and 64 bit applications. It improves performance in side-by-side benchmarks with its predecessor, improves laptop battery life and loads much, much faster. But many desktop teams have just finished their Windows 7 deployment or are still in the thick of it. Windows 7, remember, is the most complicated desktop due to both increased user expectations and the need for tighter security.
Priorities and Realities
So while deploying Windows 8 isn't the greatest priority, IT may find itself supporting it the way it has had to support iOS and Android because it may not have the option of ignoring 8 like it ignored Vista and ME. Here are a few ways it could creep into the enterprise sooner rather than later.
BYOD may force administrators to support Windows 8 on some scale. I don't mean users will bring in a Windows 8 disk and demand that IT make it work, but those with Windows 8 at home will wonder why they can't get the same interface at work. If it runs the same applications, they'll reason, it should be installed right on top of 7. In the past, IT's response has been, "We don't support it." Now they might get back, "Why?"
Windows 8 can also be used to re-purpose older hardware. This is the first Miscrosoft OS that runs leaner than its predecessor, so those three-year-old old laptops may get a second life. It's ironic that Windows 8 is Microsoft's effort to stave off the industry's movement away from the PC, yet could hurt sales of new PCs with only a $40 upgrade cost. Look at the system requirements:
Processor: 1 gigahertz (GHz) or faster with support for PAE, NX, and SSE2
RAM: 1 gigabyte (GB) (32-bit) or 2 GB (64-bit)
Hard disk space: 16 GB (32-bit) or 20 GB (64-bit)
Graphics card: Microsoft DirectX 9 graphics device with WDDM driver
Employees with Carpal Tunnel syndrome will want a trackpad for gestures instead of a mouse, which is what Win 8 was built for. Anyone suffering with Carpal Tunnel and using voice recognition software would sooner opt for Windows 8.
Businesses that put off a Windows 7 upgrade will need to find an exit from XP by 2014, when Microsoft will stop supporting it. Unless Windows 8 is found to be completely unworkable, it will be hard to justify upgrading to a five-year-old platform.
Don't look for Windows RT in the enterprise, but be prepared to have plenty of conversations about Win 8RT versus Windows 8 and how they are similarly named, look much the same yet are completely different under the hood. Image:
ExtremeTech