[caption id="attachment_13757" align="aligncenter" width="484"]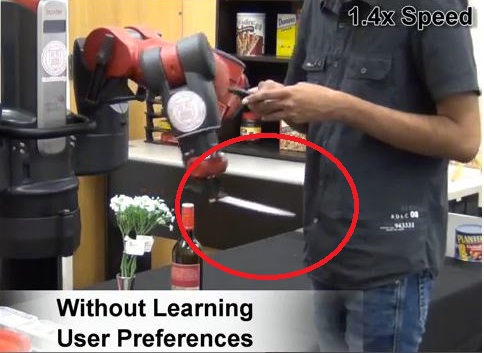 Cornell's robot has to learn how to move a knife without scaring customers[/caption] Before robots or any automation system can be useful enough to save time or effort for humans, they have to learn how to do their jobs... then learn how to do their jobs without killing or terrifying the humans they serve. Computer-driven, entirely automated robotic arms are able to handle welding, riveting, painting and a host of other complex tasks in manufacturing plants, so getting one to move food and utensils down the checkout counter of a grocery store shouldn't be difficult, but can still be terrifying to customers, according to a new report from researchers at Cornell University and illustrated with
this video
. Not all humans have the same idea of how far their personal space extends from their bodies, but nearly all react strongly when a robot waves a knife blade close to them, according to a team of Cornell researchers who have created a programming
framework designed to teach robots how to move things along trajectories that don't frighten
or endanger humans. The team programmed a Baxter robotic arm from Rethink Robotics in Boston to move groceries and other projects along a mock grocery-store checkout line staffed by lab humans who can correct any mistakes by moving the robot's arms in a way that accomplishes the same task more effectively. The shortest distance from the beginning of the checkout counter to the bag at the end is a straight line, but that trajectory is a problem when customers stand close enough to the counter that the knife blade slashes through their personal space on the way, according to the paper, an
early version of which is posted here.
(PDF) The Cornell team built into the task-instructional framework the ability to "coactively learn" from humans who grab the robot arm in mid-slash and guide it to a more acceptable distance. Relying on human corrections keeps the robot from having to know every aspect of every task before it starts, or force developers to reprogram it every time it squashes a tomato, drops a can through a plastic bag, or inadvertently threatens a customer. "We give the robot a lot of flexibility in learning," according to Ashutosh Saxena, assistant professor of computer science at Cornell, in a published statement. "The robot can learn from corrective human feedback in order to plan its actions that are suitable to the environment and the objects present." The robot doesn't repeat the first correction; instead it takes a series of corrections into account to calculate a better way to accomplish its goal. It takes approximately five corrections from a human to get the robot to learn its lesson, Saxena said.
London Drive
It's not clear whether driving is less threatening that grocery bagging, but there is less angst about autonomous vehicles than autonomous knife-wielding grocery packers, judging from a driverless commuter-vehicle project just launched in Milton Keynes, a town north of London. The town is planning to expand its public-transportation system with 100 driverless commuter pods that will run along public roads by 2015,
according to an announcement of the project.
The ULTra PRT transport pods, as they're called, can hold two passengers plus luggage, and travel on tires along a section of road bordered by curbs. The pods roll at about 12 MPH, can be summoned by smartphone and will cost about two pounds per trip. Each pod is computer-driven, but there is an override system that would let passengers take control. A similar system has been running at Heathrow Airport for two years, along 4KM of track for 21 pods. The project will cost sixty-five million pounds and won't be complete until 2017. If the pods make it into operation, they will be the first driverless vehicles allowed on public roads in the U.K. There is no word on whether or how well they might handle a knife, even one wielded by another robot.
Image: Cornell Univ.