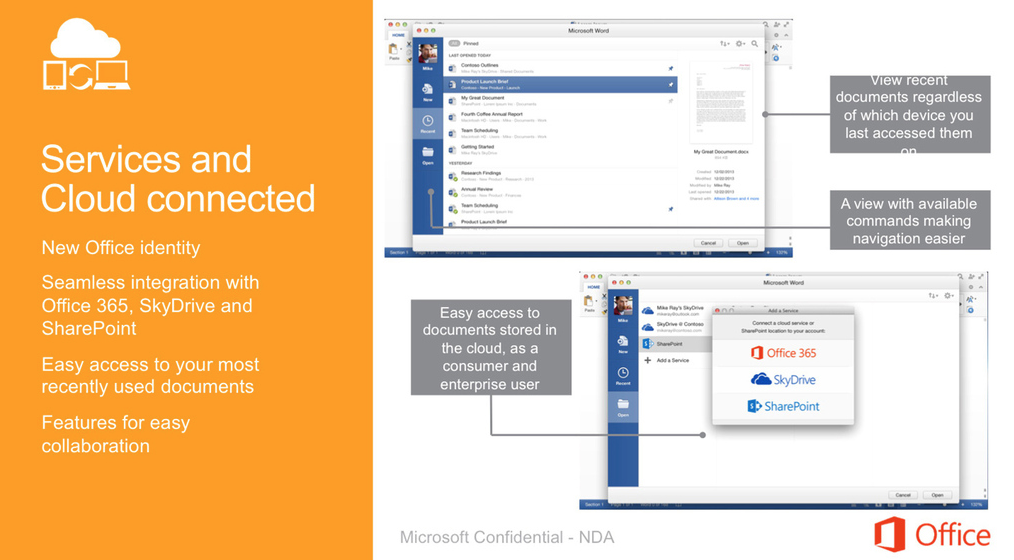 It's been four years since
Microsoft
refreshed Office for Mac OS X, and it looks like a new version of the productivity software is in the pipeline for release next year. Leaked screenshots of an internal Microsoft PowerPoint presentation posted on Chinese website CnBeta (
and reposted on The Verge
) suggest that Office for Mac 2015—or whatever its official name—will closely align with the most current version of Office for Windows. It will feature a retooled
ribbon
and support for Retina displays, as well as "seamless integration" with Office 365, Microsoft's cloud-based productivity platform.
Click here to find jobs related to Microsoft Office.
Microsoft will also make Outlook for Mac "enterprise ready," which probably means more robust options for calendars, email sync, and so on. According to
Mary Jo Foley over at ZDNet
, Office for Mac 2015 could arrive in the first half of 2015, followed later in the year by "next-generation Office 16 client and server applications." Microsoft is reportedly hard at work on Office for Android, which could make an appearance as soon as November 2014.
Upload Your ResumeEmployers want candidates like you. Upload your resume. Show them you're awesome.
While Microsoft has built Mac software for decades, the company under newish CEO Satya Nadella has made interoperability with outside platforms even more of a priority. In addition to public initiatives such as
Office for iPad
, Microsoft now has an internal skunkworks—known as the "Garage"—where company developers can design and release apps for Google Android. Nadella feels that the cloud and mobile are the key to Microsoft regaining its former relevance—a strategic shift from former CEO Steve Ballmer, who embraced a "Windows first" strategy for much of his career. But with more customers making tablets and smartphones the center of their computing lives, and the anemic response to Windows 8, Microsoft is taking a hard look at how it does business.
Related Articles
Image: CnBeta (via The Verge)