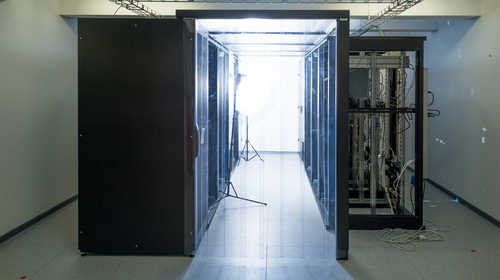 LenovoEMC is adding some new virtualization and storage capabilities to its existing LifeLine operating system for network storage, which could appeal to large data centers. The company formerly known as Iomega will make LifeLine 4.0 available free of charge to existing customers of the StorCenter ix and px series, and said that an additional line of storage products specifically designed around the new OS would go live in May. A storage OS upgrade usually adds incremental features. But LenovoEMC included some powerful new capabilities, the most important of which is probably virtualization. The new Integrated Virtualization Technology allows multiple virtual machines (including Linux and Windows) to run atop the Iomega px12-400r and px12-450r rackmount arrays. LenovoEMC said that the new capabilities were designed for lightweight Windows services or a Linux server, and that VMs can have their own private virtualized hardware, such as network cards, drives, and graphics adapters. Lenovo and EMC announced the partnership
that would eventually become LenovoEMC last August
, in what was considered to be a small part of a server partnership between EMC and Lenovo.
Completed in January
, the joint venture may allow Lenovo and EMC to jointly attack lower-tier offerings that they may have otherwise conceded to competitors, using datacenter-class technology those competitors probably can't access. The new OS will also allow snapshots, or the recording of a backup of a storage volume at a certain point in time, even when writing. The snapshot can be used to revert the volume to its former state. The third major capability is the formation of SSD cache pools, which combines the available flash capability into a single volume, before using them for frequently-accessed files. LifeLine 4.0 also adds NFSv4 for increased manageability; Active Directory hybrid authentication and high availability features, which allow a failover to a backup domain controller if the primary is offline; and iSCSI security, plus a new media server and support for the new 4-Tbyte drives in the px series. Iomega's StorCenter ix series and high-performance px series of network storage includes single-, double-, quad- and six-bay models, including diskless versions, partially-populated and fully-populated models. The px network storage arrays are also available in racked versions, including six-bay and 12-bay models. "LenovoEMC LifeLine 4.0 improves upon our previous version of LifeLine, bringing advanced computing options and capabilities to our network storage products that organizations of all sizes can benefit from," Eric Arcese, the president and general manager of LenovoEMC, wrote in a statement.
Image: kubais/Shutterstock.com