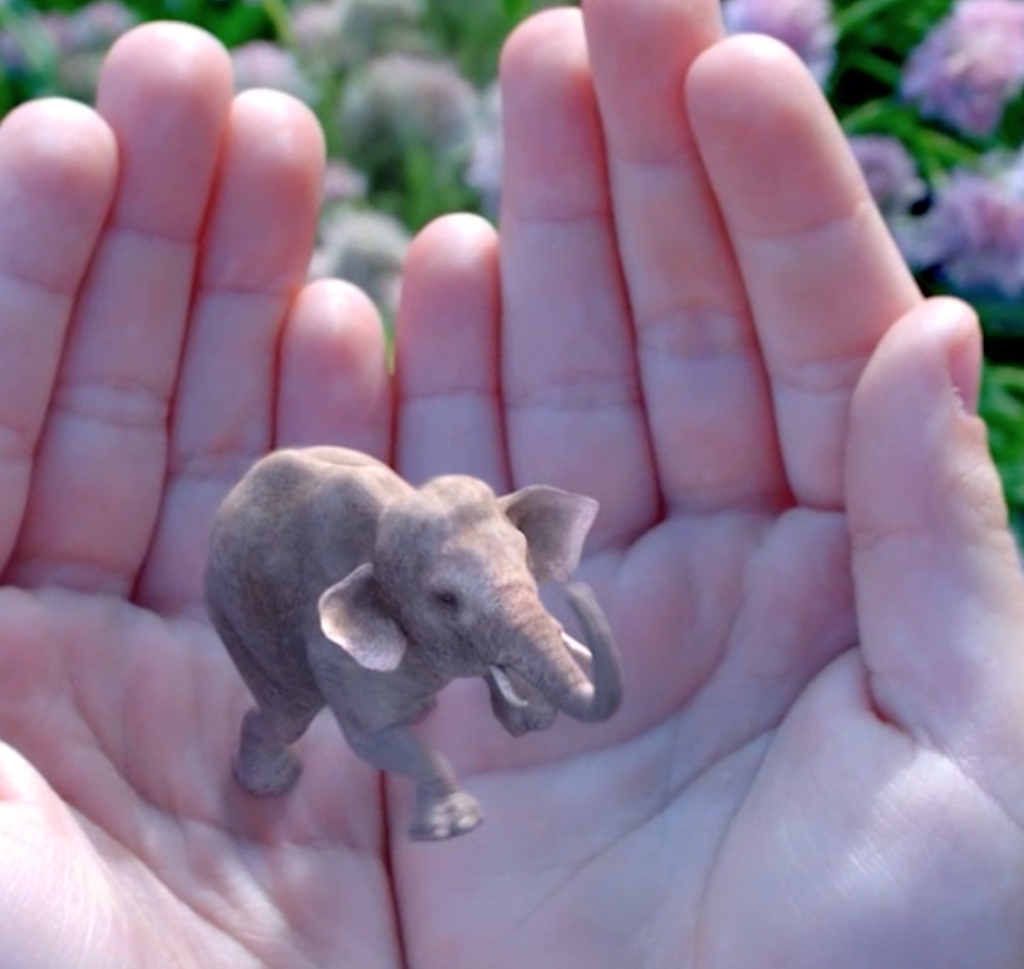 Last week, a
Business Insider
reporter
Tweeted out an image
of Magic Leap's augmented reality (AR) testing rig:
SCOOP!!! This is the FIRST PUBLIC PHOTO of MAGIC LEAP https://t.co/6hPEMe6eCg pic.twitter.com/oWKBJvKmza

— Alternative Dave (@redletterdave) February 11, 2017
The rig included a backpack, a handheld battery pack, and chunky eyewear. In other words, it's nowhere close to a finished device—a fact that sparked a wave of online speculation about Magic Leap's progress. Over the past few years, the startup has managed to attract more than a billion dollars in venture funding from Alibaba, Google, and other prominent firms. But while the developer version of Microsoft's HoloLens, an AR competitor, is
already available for purchase
, Magic Leap seems quite far away from putting a product on store shelves. Unlike virtual reality, which plunges the viewer into a digital world, AR layers holograms on the user's surrounding environment. Magic Leap has produced some short videos, such as the one above, that show people interacting with fantastical elements such as elephants and whales. "To all the @magicleap fans: we will not let you down. Back to heads down mode so we can finish and ship," Magic Leap CEO Rony Abovitz
wrote on Twitter
after that image leaked. Magic Leap's board will reportedly see a more advanced prototype this month, although "more advanced" in this case could mean
a belt pack loaded with hardware
as opposed to a clunky backpack with peripherals. If it wants a shot at being commercially viable, Magic Leap may have to ultimately produce something along the lines of the HoloLens, which manages to pack all its necessary hardware into a bulky headset. Some tech luminaries believe that AR will eventually outpace virtual reality. "My own view is that augmented reality is the larger of the two, probably by far, because this gives the capability for both of us to sit and be very present talking to each other, but also have other things visually for both of us to see," Apple CEO Tim Cook said in
an interview
with
Good Morning America
in September 2016. Although the potential use-cases for AR are vast (think everything from remote conferencing to games), virtual reality seems have advanced further on the evolutionary timeline. In addition to high-end VR rigs such as the Oculus Rift and the HTC Vive, a variety of low-cost options abound, including Google Cardboard. Many of these lower-tier options rely on one's smartphone as the screen for the virtual-reality experience. In order for AR to become more popular, the companies experimenting with the technology may have to produce a variety of headsets that target multiple consumer and business tiers. Those headsets will need to be self-contained, without bulky paraphernalia (re: no backpacks or hardware belts). And last but not least, the platforms supporting those headsets will need substantial buy-in from the developer community—something that hasn't quite happened yet.
(Update:
Just to add to Magic Leap's issues, a sexual discrimination suit has apparently surfaced. You can read the filing here.)