[caption id="attachment_3671" align="aligncenter" width="615"]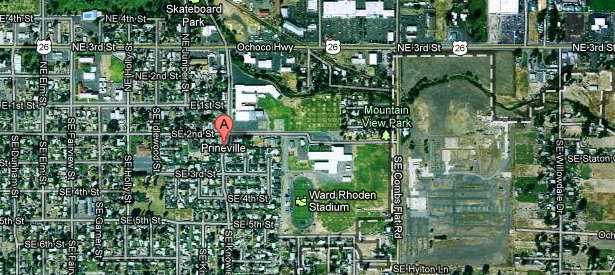 Prineville, Oregon has evolved into a prominent data-center site, drawing in tech companies including Facebook and Apple.[/caption] Planning permits filed by Apple suggest that the company plans a 500,000-square-foot data center in Prineville, Ore., where Facebook's new data center has been confirmed to be a low-power operation. According to the
Associated Press
, Apple plans the new 500,000-square-foot data center alongside the relatively tiny 10,000-square-foot site that the company has currently built. Apple's site is close to Facebook's data center, which has
filed plans for its own expansion
: a new facility totaling 62,000 square feet alongside its existing 334,000-square-foot data center, plus a second one under construction alongside. That site, dubbed "Sub-Zero," will host a "brand-new type of low-power, deep-storage device" that will turn off when not in use,
according to Wired
. As the AP notes, the Prineville area is one of the more depressed areas in Oregon, with an unemployment rate of 12.8 percent. Tax breaks, a mild climate, an abundance of power and available water have helped bring data center customers like Apple and Facebook to the area. The Prineville plan also calls for Apple to help increase capacity in the city water system, where an underground stream has been discovered. Apple will use the stream for its own water needs, contributing a portion to the city. The AP report also noted that Apple's data center will include two buildings, described as "data halls," and cover about 107 of the 160 acres owned by Apple. Facebook, for its part, is aggressively building out data centers in North Carolina and Sweden, in addition to the Prineville facility. Facebook's construction and operation, including its
power consumption
and
water use
, have been under the auspices of the Open Compute Initiative, which shares engineering resources. What will Sub-Zero house? According to Wired, a sort of deep backup system designed to replace tape, but using disk drives or possibly SSDs. "They're designing a hard-disk storage server that powers off when it's not in use," Tom Furlong, vice president of site operations at Facebook, told the magazine. "It's going to sit in a dedicated building that is optimized to support this device that we don't need to access very often." It's unclear how soon either facility will be built. Facebook told the
Daily Journal of Commerce
that there was no time frame for the Sub Zero building to be built, but that it was "always on the drawing board." Apple has also not given a timetable for its data center's construction.
Image: Google Maps