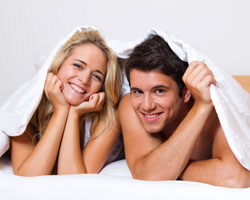 Our subject today, OkCupid, is known as the dating destination where the cooler, cuter kids hang out. With 3.2 million active users and 7.1 million unique visitors each month, it's touted for having a proprietary algorithm that results in a more compatible match. Somewhere between 50 and 75 percent of single, active Internet users have tried online dating. Each of the big dating sites like Match.com, Plenty of Fish and OkCupid has a distinct reputation, and OKCupid's happy to be known as the cool place. I got curious about what's under the covers of one of the most popular dating sites around. So I looked up Sam Yagan, OkCupid's co-founder and CEO, to talk about his site's technology and why it stands out from the engines of his competitors.
First, let's talk about how things work. Why would OKCupid help me find a guy better than someone else's site?
Our matching algorithm is highly computationally intensive, which requires a technology platform capable of keeping up. That's why we develop primarily in C++. We also developed our own open source Web server called OKWS.
The site performs well, from what I can see.
That's because our OKWS and C++ platforms are so efficient. We're able to support millions of active users on fewer than fifty machines.
Has the Match.com deal affected the site?
That was a business transaction. There was no impact on our users. We haven't integrated technology, data or users at all. Both businesses continue to grow rapidly. We don't do any co-marketing. I didn't expect there to be any impact and there wasn't.
What about people? Is there a particular type you look for when you're hiring?
We typically look at three things when we evaluate candidates: intelligence, experience and fit. Of the three, we value intelligence first, then fit, then experience. The majority of our employees went to Carnegie Mellon, MIT and Harvard. We're happy to hire brilliant people right out of college. In fact, our current CTO joined OkCupid after graduating Carnegie Mellon five years ago. We're a total meritocracy. The best performers are given more and more opportunity.
What's your company culture like?
You really have to care about the end user. You have to feel that what we're doing is important and makes a different in the world. Everyone talks about how Google is the best search engine, but I really think that OkCupid is the most important search engine on the Web. Google is great in helping you find a mortgage or the lyrics to a song, but OkCupid will help you find a friendship, relationship, love, intimacy, whatever it is that you're looking for. So to work here, you have to believe in that mission and know that you're doing something important. Image:
Couple has fun in bed
[Bigstock]