[caption id="attachment_3191" align="aligncenter" width="600"]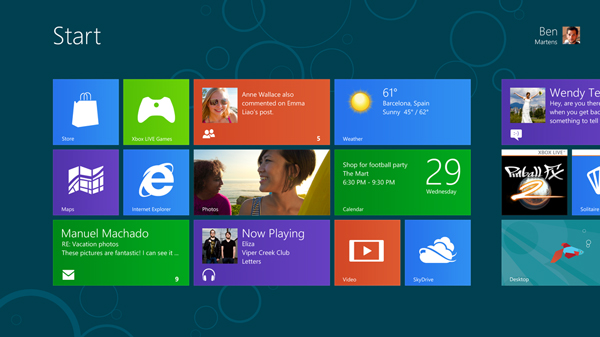 Microsoft's "Metro" design aesthetic, as seen in Windows 8.[/caption] At this year's Consumer Electronics Show in Las Vegas, Microsoft CEO Steve Ballmer took the stage for what was billed as the company's last-ever keynote at the event. Many in the audience expected him to whip back the curtain from a new product—perhaps an updated Xbox, or a tablet running the upcoming Windows 8. Instead, Ballmer touted the "Metro" design aesthetic as the company's "star attraction," and the glue that would soon unite all the user experiences offered by Microsoft products. Indeed, Metro already links Windows Phone, Windows 8, and the revamped Xbox dashboard. Yet despite all that heavy promotion, it now appears Microsoft will have to drop that "Metro" moniker. According to
The Verge
, and subsequently picked up by the
BBC
and other outlets, a potential trademark issue with German retail company Metro AG is responsible for the last-minute adjustment. An unnamed source apparently gave The Verge an internal memo detailing Microsoft's next steps, which include an undefined "replacement term." Until that's decided on, employees will stop using "Metro" in favor of "Windows 8 style UI," which really rolls off the tongue. The replacement term is expected soon. A Microsoft spokesperson told
Ars Technica
:
"We have used 'Metro style' as a code name during the product development cycle across many of our product lines. As we get closer to launch and transition from industry dialog to a broad consumer dialog we will use our commercial names."
Metro (or whatever it'll end up being called) is much more than a pretty face. From the large and colorful tiles linked to applications, to the fluid transitions between screens, every element is meant to convey speed and ease of use. Those are vital when it comes to mobile devices such as smartphones and tablets, although the Metro-themed Start screen for Windows 8 PCs is attracting its
share of criticisms
, as Farhad Manjoo pointed out in a
June 5 piece
on
Slate
:
"If Microsoft wants to preserve and extend its OS hegemony, it's going to have to hold their hands through the changes, perhaps with more on-screen prompting and a large media campaign. But even that may not be enough. People adapt to change—except when they don't."
In many ways, Metro is the unofficial ambassador for Microsoft's increasing emphasis on the cloud. Windows Phone and Windows 8 both lean heavily on cloud platforms such as SkyDrive for full functionality, for example, and Microsoft is in full-press mode to convince developers that they should build cloud-reliant apps for these platforms.
Image: Microsoft