Microsoft wants to increase the number of H-1B visas by 20,000, bringing the total up to about 105,000 a year, and to raise the cost to about $10,000 a head from $2,800. The new proposed visas would go solely to STEM workers. Under Microsoft's plan, the higher fees would produce $5 billion to be invested in U.S. STEM education over the next 10 years.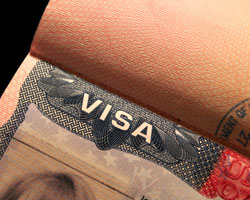 The company is also urging Congress to take advantage of 20,000 unused green card visas each year, and reallocate them to workers with science and technology skills. In announcing the proposal, Brad Smith, Microsoft's executive vice president and general counsel, said the U.S. education produces only half of the graduates needed to fill the estimated 120,000 computer-related jobs requiring at least a bachelor's degree that will be created in each of the next 10 years. "It's a problem that's approaching dimensions of a genuine crisis," he argued, adding that his company has 6,000 unfilled positions, including 3,400 openings for researchers, developers and engineers. Microsoft was the top employer seeking H-1B visas, an annual average of 4,109 over the previous decade, according to a Brookings Institution report cited by Bloomberg. India's Tata Consultancy Services ranked No. 2, seeking an average of 3,179 visas, and Arlington, Va.-based Deloitte Consulting was third, seeking on average 2,981. The think tank also noted that Midwestern companies are increasingly relying on foreign workers to fill highly skilled jobs.
Opposition...
Not everyone likes Microsoft's approach. "The short answer is that the Microsoft proposal is simply slick PR, designed to deceive," contends UC-Davis Computer Science Professor Norm Matloff, a longtime H-1B opponent. Matloff believes the bigger issue is ageism. In a recent edition of his e-newsletter, he questioned why Microsoft doesn't reduce the number of open positions by hiring back workers it laid off in the last couple of years. Programmers Guild founder John Miano believes there is no labor shortage in IT, and says Microsoft is using the same old arguments that have been around since the 1990s. Counting only computer science majors fails to take into account the number of people with other majors who make up a large portion of the IT work force. "The first priority should be fixing the problems that have been documented in government audits over the years: underpayment [of workers], fraud, the bogus prevailing wage calculation, displacement of Americans, and enforcement." In the 22 years since the H-1B program began, he points out, Congress has raised the number of visas three times but done nothing to address these issues. "Fix the problems first, then look at the visa numbers," he said. Still, Miano agrees that the cost of the visas should be raised as Microsoft suggests. "The government should be auctioning the visas off to the highest bidder to get the maximum value for them."
...and Support
Eric Silver, CEO of Pittsburgh-based shopping startup Pikimal, says his opinions on the matter of guest workers are colored by the many "brilliant" foreign-born students he encountered in graduate school. "Increasingly, industries are competing on the basis of their software," he said. "The basis of our future competitiveness comes from the quality of the software that we're writing now." Silver would prefer an approach that doesn't require companies to pay visa fees. That way, "even the poorest startup would be able to hire brilliant developers, no matter their birthplace. Even though Microsoft's approach primarily benefits companies with deep pockets, anything that can be done to connect foreign developers with local opportunities will ultimately benefit everyone." Another supporter of the H-1B program is Ali Behnam, co-founder of Bay Area tech staffing firm Riviera Partners. "Our schools are not turning out enough developers. We see an acute shortage here in the valley," he observes. "Unfortunately, learning to become a programmer is not something where existing workers can be retrained." Even $10,000 us a "small investment," he says. "A developer easily adds $1 million to $2 million in value to a company's valuation, so it is still a high return on investment." In addition, "Many of these people end up staying and becoming very productive citizens." Is there a real labor shortage, or are visa supporters just ducking other issues? Share your thoughts in the comments below.