Microsoft has made a decision regarding Internet Explorer 10 in Windows 8 that could cheer privacy advocates: the browser will enable "Do Not Track" (DNT) by default. That could frustrate the owners and operators of commercial Websites that depend on tracking user behavior as part of their advertising strategy. Microsoft is also pushing for various regulatory and standards groups to "respect" DNT signals sent by users' browsers.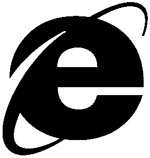 "Microsoft does not yet respond to the DNT signal," Brendon Lynch, Microsoft's chief privacy officer, wrote in a May 31
corporate blog posting
, "but we are actively working with other advertising industry leaders on what an implementation plan for DNT might look like, with a goal of announcing more details about our plans in coming months." Microsoft, of course, earns money from search and display advertising on Bing and other Websites. However, the company's online services division (which includes Bing) has long operated at a significant quarter-over-quarter loss, and it has other sources of revenue to fall back on. It remains to be seen whether default DNT in the most recent version of one of the Web's most-used browsers will adversely effect those companies that depend more heavily on online advertising to survive—like, say, Microsoft's old rival Google. Various advertising groups were loudly unhappy about Microsoft's decision. In a June 1 statement, the Digital Advertising Alliance (DAA) suggested that advertising is what keeps the Web operating in its current form: "Consumers enjoy the diverse range of Web sites and services they get at no charge thanks to relevant advertising." The DAA also claimed that Microsoft was undermining Web businesses. "The DAA is very concerned that this unilateral decision by one browser maker—made without consultation within the self-regulatory process—may ultimately narrow the scope of consumer choices, undercut thriving business models," and reduce the number and size of various Web-based products and services. A number of companies that offer cloud-based services (and not just Google) indeed depend on advertising revenue in order to fund free or relatively low-cost applications. That being said, it remains to be seen whether DNT by default in IE10 on Windows 8 will truly undermine that model. For one thing, Internet Explorer as a franchise has seen its market-share steadily erode over the past few years in the face of Firefox and other browsers.
Image: Microsoft