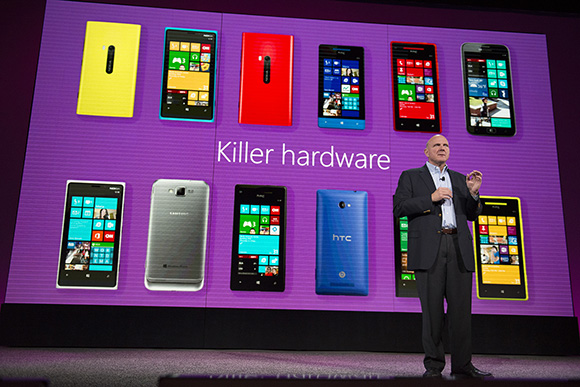 Back in 2013, Microsoft acquired Nokia for $7.2 billion. The move was controversial, and with good reason: phone manufacturing is a notoriously high-risk, low-margin business that's swallowed many a well-meaning company. But then-CEO Steve Ballmer (above) thought it was a risk worth taking. Fast-forward to a few years later, and the impact of that decision is clear. Microsoft just announced
plans to cull 1,850 jobs
, in addition to taking a restructuring charge of $950 million, as part of the final unwinding of its phone business. That follows thousands of phone-related layoffs over the past two years, along with a $7.6 billion write-down in 2015. Microsoft's latest announcement comes days after research firm Gartner reported the market-share for Windows Phone, the company's smartphone OS, had
dropped below 1 percent
. "We need to be more focused in our phone hardware efforts," Terry Myerson, executive vice president of the Windows and Devices Group, wrote in an internal memo to employees,
as leaked to The Verge
. "When I look back on our journey in mobility, we've done hard work and had great ideas, but have not always had the alignment needed across the company to make an impact." Although Microsoft has effectively shut the door on its Nokia era, the company still has plans for mobile. Under current CEO Satya Nadella, Microsoft has no problem building software for rival platforms, including Apple's iPhone and Google Android. There are also rumors that
a Surface-branded phone is in the works
for release sometime next year, although it seems questionable whether Microsoft will quickly jump back into a smartphone market that so firmly rejected its core offering.