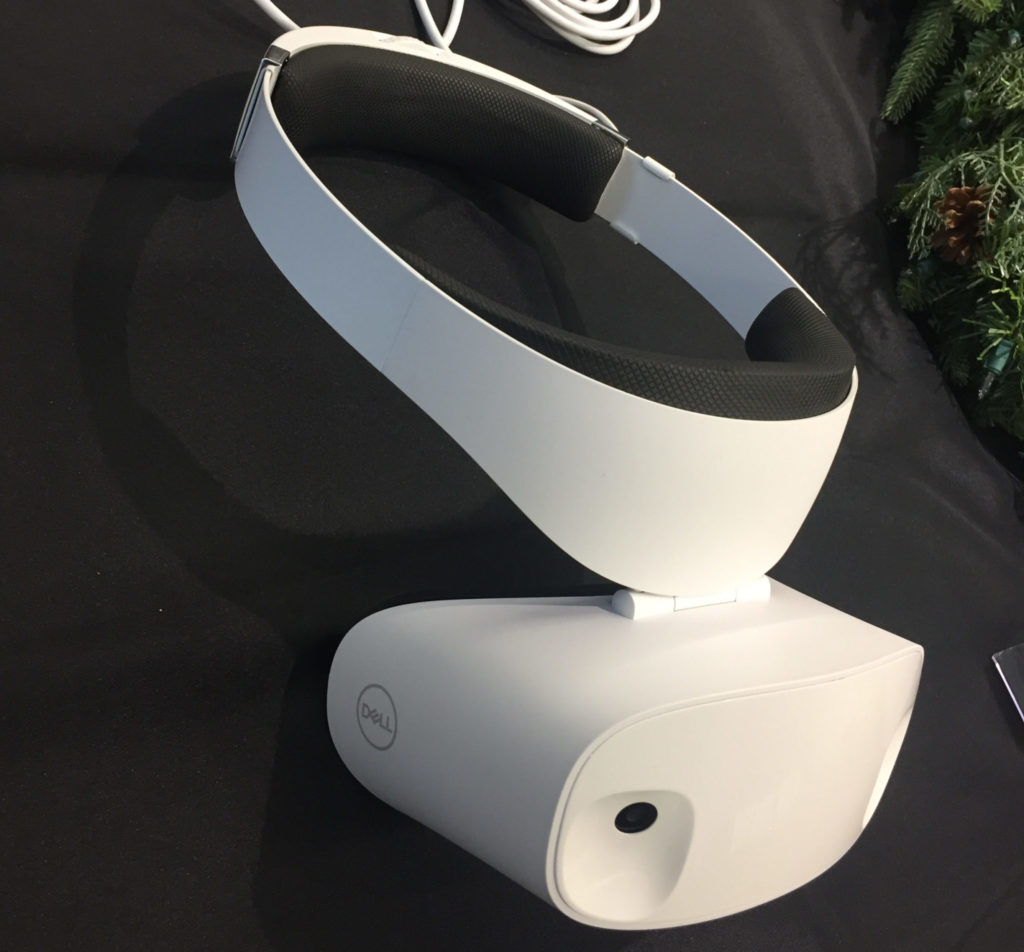 In May, executives at Microsoft's Build conference announced a new generation of "mixed reality" headsets. The term
"mixed reality"
has drifted around scholarly circles for many years. As originally conceived, the term (synonymous with "hybrid reality") encompasses both augmented reality (AR) and virtual reality (VR). Alex Kipman, inventor of the company's HoloLens headset,
told the Build audience
that AR and VR are just arbitrary labels for "different points" on the "mixed reality continuum." As a result of all that hype, you might think these "mixed reality" headsets, once they hit the market, would offer users the best of AR and VR in one piece of hardware. And you'd be wrong: it's now clear that the first-generation headsets are primarily VR devices. Dice recently had the chance to examine the Dell Visor, a "mixed reality" headset that will arrive in October, right before the holiday shopping season (it will retail for $350). After slipping the device on, you can view the virtual world through a pair of displays with 1,440-pixel resolution (each) and a 90Hz refresh rate. The Visor sits easy on the user's head, thanks to a thumbwheel that adjusts the tightness of the headband; the front-piece rises on a hinge, just in case you need to pause in your VR quests to examine the real world. Unlike some "mixed reality" headsets from other manufacturers, the Visor is white and sleek, which could appeal to anyone worried about the aesthetics of strapping hardware to their face. (All "mixed reality" headsets attach to a Windows PC via a HDMI cord, meaning you're tethered for the duration of the VR experience.) While Microsoft and its partners are positioning the headsets as a relatively affordable way for users to enter the VR market, the hardware might find stiffer-than-expected competition from the HTC Vive and Oculus Rift, both of which have slashed prices over the past several months. Hardcore gamers and others interested in VR will have to decide whether they want to pay an extra $150 (in the case of the Oculus Rift) or $250 (with the Vive) for hardware with more power—and for gamers who are already willing to spend many hundreds or even thousands of dollars for the latest and greatest equipment, that might not prove a huge ask. Will these "mixed reality" headsets ever offer a true mix of AR and VR? It may take a few more generations to hit that point. In the meantime, Microsoft and its partners are continuing to use the "mixed reality" term, even if what they're offering is "just" VR. Those consumers who want a Microsoft-built AR experience will need to wait for the
HoloLens headset
, which is currently available to developers at a premium price.