[caption id="attachment_16674" align="aligncenter" width="400"]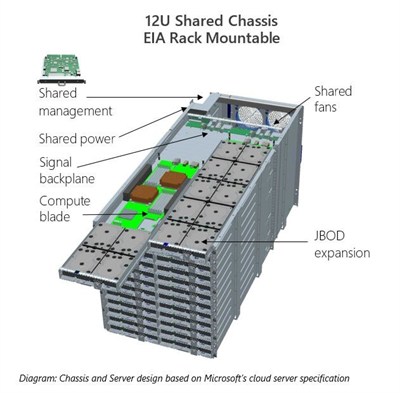 Microsoft likes a modular, no-cable design for datacenter cloud servers.[/caption] Microsoft has announced it is joining the Open Compute Project, a forum (launched by Facebook) for datacenter owners and equipment vendors trying to build large-scale, high-performance but energy-efficient datacenters. As part of its participation, Microsoft will contribute the plans for the highest-performance servers it uses to run cloud services including Windows Azure, Office 365 and Bing. The cloud-server specification is a hardware/software/networking/storage configuration "optimized for Windows Server software and built to handle the enormous availability, scalability and efficiency requirements of Windows Azure," according to a
blog posted Jan. 27 by Bill Laing, corporate VP of Microsoft's Cloud and Enterprise
business. Microsoft participates in most technical standards' development efforts, but is not known for publishing proprietary designs or system configurations. In this case, however, the company is releasing not only its datacenter hardware specifications, but the source code for the software it created to manage those datacenters, including server diagnostics, power supply monitoring and controls and fan controls, Laing wrote. Microsoft has already posted the code, listed as
Chassis Manager under the MSOpenTech account, on GitHub.
Joining OCP is part of an overall effort to promote and attract partners to
Microsoft's Cloud OS strategy,
which it Laing describes as being consistent than other hybrid-cloud efforts. Microsoft's cloud-server specification is 40 percent cheaper than standard datacenter server configurations and 15 percent more power efficient. It also requires about half the effort to deploy and service compared to standard versions, according to Laing, who will announce both Microsoft's membership and publication of the cloud-server spec in a keynote speech at the
Open Compute Project (OCP) Summit in San Jose, Calif.
Jan. 28. The requirements that drove the specification include simplicity of design – "since at cloud scale the smallest issues can get magnified and potentially cause availability issues for customers,"
according to a Jan. 27 blog from Kushagra Vaid, GM of Microsoft's Server engineering division.
Other requirements included the lowest-possible total cost of ownership, a modular design to make hardware changes simpler, a reliable and flexible supply chain, ease of operations and cost-effective servicing and environmental sustainability. The servers themselves are built into 12U rack-mountable chassis with 1U trays, space for up to 24 servers, power- and management units shared among all the servers in the rack, and a shared backplane. Rather than the tangle of cables that snake out the back of most server racks, Microsoft's cloud racks use blind-mate connectors that let the servers plug directly into signal- and power backplanes, which drastically reduces the amount of cabling required, reduces the number of problems from loose cables, and cuts deployment time in half, Vaid wrote. The network spec calls for a passive backplane and support for either 10Gbit/sec or 40Gbit/sec Ethernet, using either copper or optical cables, and for all network cables to be installed in the chassis at the factory to cut down the manual work for datacenter staff. Each chassis includes management card based on an x86-based system-on-a-chip with support for TPM secure boot, SSL communications, role-based Active Directory authentication, REST API and CLI interfaces. In addition to releasing open-source-licensed source code for its Chassis Manager, Microsoft will contribute specs for the servers, mezzanine cards, chassis and management cards, management APIs and protocols, CAD models for the whole setup and specifications for the management cards, power distribution boards and tray backplanes, Vaid wrote. Microsoft's specification will join a host of others submitted by Facebook and other OCP members to OCP working groups that pare the various configurations down to a recommended OCP specification. The goal is to make each component, as well as the whole datacenter hardware lineup, "efficient, inexpensive and easy to service…[and] vanity free, with no extra plastic and significantly fewer parts than traditional servers," according to OCP guidelines. All the designs submitted – such as the
AMD motherboard specification Facebook submitted
based on the configurations used in its own datacenters -- become publicly available under a
Creative Commons license and the Open Web Foundation Agreement.
Image: Microsoft Corp.