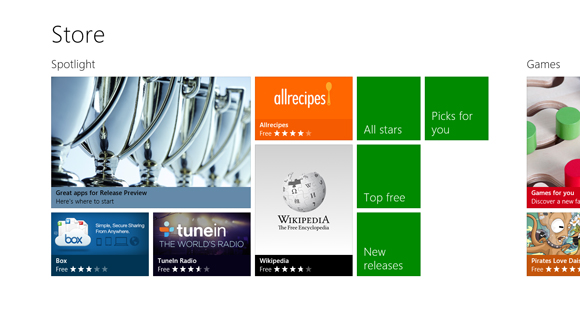 Microsoft will allow third-party developers to price Windows Store apps at anywhere from $1.49 to $999.99. The Windows Store will play an integral role in the upcoming Windows 8, which will appear on tablets in addition to traditional desktops and notebooks; Microsoft hopes that loads of easy-to-download apps will make Windows 8 devices a true contender to Apple's iPad and Android-based devices such as Google's Nexus 7, which rely heavily on apps from third-party developers. That bottom price is a slight pricing uptick, of course, from the $0.99 that Apple's App Store helped establish as a baseline for app pricing. (Developers can find an explanation of Windows app pricing tiers at its
Dev Center
.) Developers can monetize apps via advertising within apps, in-app purchases, upgrades to full versions of an app, and billing through the developer's own mechanisms. Microsoft will process transaction payments on a monthly basis. "Transactions become eligible for payment 30 days after the purchase occurred," read a July 20 note on Microsoft's
Windows Store for Developers
blog. "To receive a payment, all you need to do is accumulate $200 or equivalent in app sales that you haven't been paid for yet."
That's all well and good
, your typical developer might say.
But what's my cut of the proceeds?
The answer is, 70 percent of revenue; if the app's total net receipts exceed $25,000, the cut becomes 80 percent. Microsoft's full legalese on the matter can be
found here
. Microsoft will enable third-party developers to publish and offer paid apps as soon as the upcoming Windows 8 hits its RTM (Release to Manufacturing) milestone. Right now, the apps available in the Windows Store are free. Microsoft faces significant competition in the cloud-apps space not only from Apple, which boasts massive app stores for both iOS and Mac OS X, but also Google, which recently grouped its revamped app platform (along with its multimedia offerings) under the
"Play"
branding umbrella. Over the past few years, Apple demonstrated how a healthy app ecosystem is integral to a platform's ultimate success or failure. It's a lesson that Microsoft seems to have taken to heart, only insofar as its executives have repeatedly encouraged third-party developers to build for the company's platforms, including Windows 8 and Windows Phone. In terms of Windows Phone, that encouragement helped the fledgling smartphone platform build a small-but-sturdy collection of apps despite anemic device sales. Microsoft is betting big that Windows 8, as an update of a platform already in use by hundreds of millions of people around the world, will offer a considerable lure for developers looking to make a little cash from their wares.
Image: Microsoft