[caption id="attachment_11019" align="aligncenter" width="500"]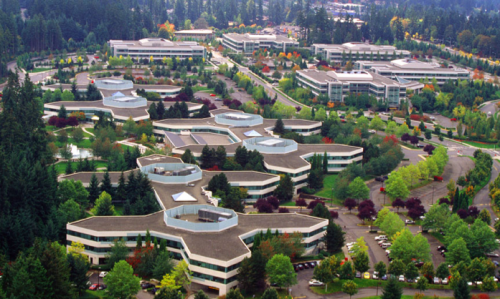 Microsoft campus.[/caption]
Following in the footsteps of Google
, Microsoft is asking the U.S. Attorney General to permit the release of more information related to government requests for user data. "We believe the U.S. Constitution guarantees our freedom to share more information with the public, yet the Government is stopping us," Brad Smith, Microsoft's general counsel, wrote in
a July 16 corporate blog posting
. "For example, Government lawyers have yet to respond to the petition we filed in court on June 19, seeking permission to publish the volume of national security requests we have received. We hope the Attorney General can step in to change this situation." Last week,
top-secret documents released by The Guardian
accused Microsoft of tightly collaborating with U.S. intelligence services such as the NSA on intercepting user communications. Those documents came from Edward Snowden, a former NSA contractor and self-described "whistleblower" who is currently seeking political asylum in a friendly country.
As detailed by The Guardian
, the documents show that Microsoft "helped the NSA to circumvent its encryption to address concerns that the agency would be unable to intercept web chats on the new Outlook.com portal." That circumnavigation was apparently completed in December 2012. The documents also suggest that the NSA has access to email on Outlook.com, "including Hotmail," and shares some of its collected materials with the FBI and CIA. In his blog posting, Smith pushed against those documents' assertions. "We do not provide any government with direct access to emails or instant messages," he wrote. "Full stop." While Microsoft complies with court orders and other lawful demands, he added, it does not provide the government with the ability to directly access user content or break encryption. SkyDrive, Outlook.com (formerly Hotmail), and other Microsoft platforms (such as enterprise tools) fall under this policy. Smith also insisted that the government does not have access to Skype accounts. "We continue to enhance and evolve the Skype offerings and have made a number of improvements to the technical back-end for Skype, such as the 2012 move to in-house hosting of 'supernodes' and the migration of much Skype IM traffic to servers in our data centers," he wrote. "These changes were not made to facilitate greater government access to audio, video, messaging or other customer data." Microsoft's maneuver echoes that of Google, which in June asked the Foreign Intelligence Surveillance Court, the federal court that oversees surveillance warrants, to loosen its gag order on how often the federal government requests user data from tech companies. Along with Microsoft, Google was cited in Snowden's documents as one of nine tech companies that willingly provides user data to the NSA, something that Google has vehemently denied to Slashdot and other media outlets. Google and Microsoft both publish regular transparency reports detailing government requests, although the government forces the companies to present those requests as a numerical range rather than an exact number. It's unclear how the government allowing companies to release more specific data will counter the current spate of reports about NSA involvement, but Google and Microsoft evidently think it'll help in some way.
Image: Microsoft