[caption id="attachment_5220" align="aligncenter" width="618"]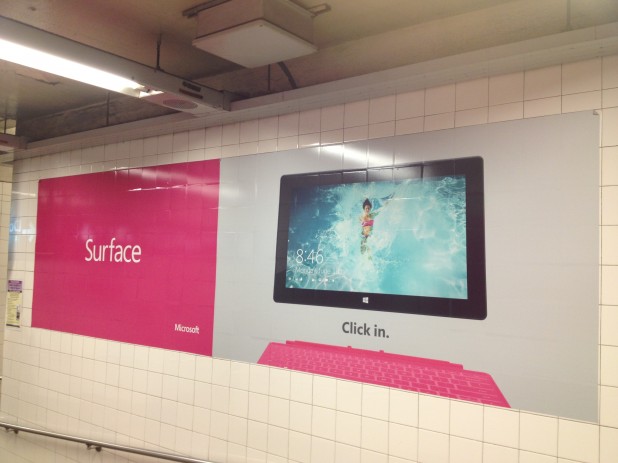 A Microsoft Surface advertisement in New York City.[/caption] Microsoft has finally revealed the pricing of its upcoming Surface tablet to a small group of journalists, including Time's Harry McCracken, who wrote in
an Oct. 16 posting
that the device's 32GB version will retail for $499 (or $599 with the flexible keyboard cover) and the 64GB one for $699 (cover included). Preorders will apparently begin by midday Oct. 16.
Microsoft unveiled Surface over the summer
but kept the pricing a secret until now. That information vacuum led some to hope against hope that Microsoft would attempt something radical and price Surface extraordinarily low—$199, perhaps—in an attempt to undercut Apple's iPad. While that didn't happen, Surface at least matches its biggest rival's low- and high-end price points. The WiFi-only, 16GB version of the iPad retails for $499, while the WiFi-only, 64GB version costs $699 (iPads with a cellular connection cost a bit more). Surface will come in two editions: one running Windows 8 Pro powered by a third-generation Intel Core processor, and another with the ARM-based Windows RT. Both will include 10.6-inch screens, as well as a kickstand and the aforementioned flexible cover that doubles as a keyboard. In a radical change from its standard operating procedure of the past several years, in which it provided software to original equipment manufacturers (OEMs) who then built the actual PCs and devices, Microsoft is manufacturing Surface in-house. (It's taken this route with a few other products over the years, including the Xbox.) Surface is also indicative of Microsoft's shift toward becoming what CEO Steve Ballmer recently described as a "devices and services company." "There will be times when we build specific devices for specific purposes, as we have chosen to do with Xbox and the recently announced Microsoft Surface," he wrote in
his most recent shareholder letter
. "In all our work with partners and on our own devices, we will focus relentlessly on delivering delightful, seamless experiences across hardware, software and services." But that move might not sit well with Microsoft's OEMs. In its annual Form 10-K filing with the Securities and Exchange Commission (SEC) over the summer, the company stated: "Surface devices will compete with products made by our OEM partners, which may affect their commitment to the platform." A couple weeks later,
an Acer spokesperson suggested
that Microsoft launching its own-brand products was a "negative for the whole PC industry," but other large manufacturers such as Dell and Hewlett-Packard seem to be proceeding apace with their Windows 8 plans.