[caption id="attachment_14888" align="aligncenter" width="576"]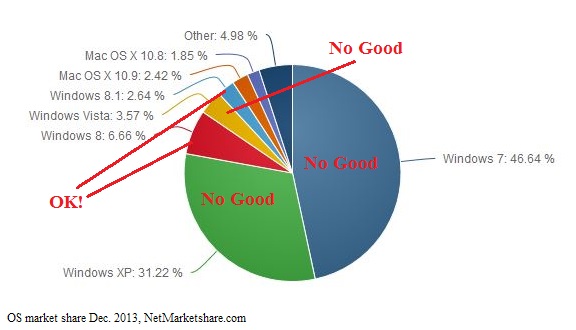 Windows 7 is the latest version for which Microsoft has announced it will end support.[/caption] Microsoft has pulled copies of Windows 7 from its online store and stopped shipping retail versions of the operating system, all as a first step toward declaring it obsolete and ending technical support. It will continue selling pre-installed versions of Windows 7 until Oct. 30, 2014, and continue full technical support of the most popular version of its operating system until Jan. 13, 2015. Adding Windows 7 to the list of operating systems from which Microsoft is urging customers to migrate puts the company in the odd position of opposing the operating-system choices of more than 81 percent of its current users. Among all PC operating systems, Windows 7 holds a 46.64 percent market share; Windows XP holds 31.22 percent and Windows Vista holds 3.54 percent,
according to online software market-share tracking site NetMarketShare.
The announcement doesn't change anything about Microsoft's support, pricing or licensing of Windows 7,
according to a Dec. 6 story in Computerworld.
Rather, the change marks a milestone in Microsoft's product-lifecycle process, under which it promises to offer full technical support for an OS for two years after the replacement product ships, as well as more limited "extended" support for two years after the second version of its replacement ships, according to the
Windows lifecycle fact sheet that serves as a de facto official status indicator
for Microsoft operating systems. Microsoft has worked for more than a year to get Windows XP users to upgrade to something newer, warning most recently that those who continue using XP after the 2014 cutoff date will "essentially have a 'zero day' vulnerability forever,"
according to an Aug. 15 blog by Microsoft product manager Tim Rains.
With no more official updates or hotfixes, any new vulnerabilities will stay that way, leaving customers at risk, Rains added. The blog entry is one more missive in a campaign that has gone on for more than a year urging even recalcitrant corporate customers to upgrade to a newer version of Windows, with less success than Microsoft would like,
according to ZDNet Microsoft guru Mary Jo Foley.
Microsoft officials have confirmed privately that they know of some corporate customers who either refuse to migrate or will not have completed migration by the deadline, putting them in line for the zero-day-forever bug, Foley wrote. Windows Vista won't hit the end-of-extended support deadline for three years after XP, but is already out of mainstream support. Windows 7 will leave mainstream support Jan. 13, 2015 and remain under extended support until Jan. 14, 2020, so there is still plenty of time to plan migrations, or put off worrying about them whether Microsoft likes that or not. The harrying continues, however. The day before Rains' warning blog, Microsoft released results of its own Security Intelligence Report for the first half of 2013 showing that users of Windows XP are five times more likely to be infected by malware than users of
Windows 8 and six times more likely to be hacked.
The large installed base and 13-year run as one of the most popular operating systems mean hackers have had plenty of time to learn XP and still have plenty of incentive to attack it, so neither result is really surprising, according to Wolfgang Kandek, chief technology officer at cloud-based security firm Qualys,
as quoted in an Oct. 29 USA Today story about the warning.
Windows 7 users may eventually be in the same boat, but not for a while. Even after Microsoft ends extended support for it, corporate customers can buy custom support from Microsoft or from third parties such as the French company Arkoon or their own VARs and resellers. Under
"extended" support Microsoft offers security updates,
paid per-hour technical assistance, access to version-specific technical information on Microsoft Help, and Support forums and its Knowledge Base. Extended support includes hotfixes for new issues only to customers who buy an extended hotfix agreement. Mainstream support for Windows XP ended April 14, 2009 and for Windows Vista on April 10, 2012. Both are still included under extended support, which will end for XP on April 8, 2014 and for Windows Vista on April 22, 2017.
Image: Net Applications/Netmarketshare.com