[caption id="attachment_4367" align="aligncenter" width="580"]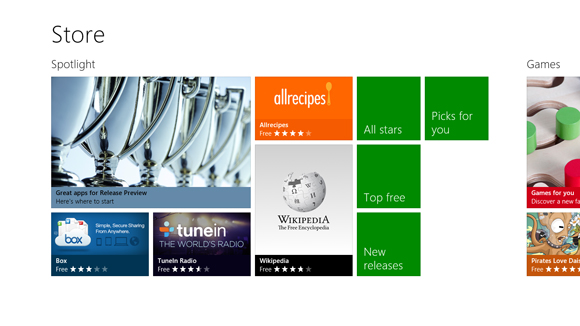 Windows Store will play an integral role in Windows 8.[/caption] Microsoft has opened the Windows Store to developers in 82 more app-submission markets, it announced in a Sept. 11
corporate blog posting
. That brings Microsoft's total to
120 Windows-app-submission markets
.
Microsoft Visual Express 2012 for Windows 8
, the platform for building apps, includes project templates, the Windows 8 SDK, and Blend for Visual Studio. (In order to actually building Windows apps, developers will also need to install Windows 8 RTM, which is available to MSDN subscribers; non-subscribers can download an evaluation version of Windows 8 RTM with an expiration date from the company's
Evaluation Center
.) By integrating an app store into Windows 8, Microsoft hopes to challenge Apple's iOS and Google Android as developers' company and platform of choice. In a radical departure from previous versions of Windows, which relied on the "traditional" desktop user interface, Windows 8's Start screen is composed of colorful tiles linked to applications—the better to tap and swipe, in the case of tablets. PC users without a touch-screen, or those old-school purists who simply can't make the transition to the new user interface, can tap one of those Start screen tiles to transition to an updated desktop environment. Microsoft will allow developers to set app prices at anything between $1.49 and $999.99, and further monetize via advertising within apps, in-app purchases, billing through a developer's own mechanisms, and upgrades to full versions of an app. Microsoft will give developers 70 percent of app-sale revenue up to $25,000, after which the cut increases to 80 percent. The full legalese
can be found here
. Microsoft is betting that Windows' sizable install base will lure those developers into the fold. And it might be right: a July survey by Appcelerator and IDC found that 33.3 percent of developers were interested in creating applications for Windows 8 tablets. That healthy number came despite shrinking interest in developing for Microsoft's other mobile platform, Windows Phone. But Microsoft nonetheless faces a significant battle in overcoming iOS and Android, both of which scored very high in that survey's various categories. The other ray of hope in that survey was the 66 percent of respondents who said they used multiple platform development tools to build apps, which gives Microsoft an opening to attract even those developers who already create software for iOS and Android. Despite what will surely be a massive marketing push, Windows 8 faces some significant obstacles. Windows 7 is still much-used by businesses and individuals, who may prove reluctant to upgrade; the tablet market features some formidable competitors, including the iPad and the newly announced Amazon Kindle Fire HD; and Microsoft's own Surface tablets, which it's building in-house,
could sour the relationship with some OEMs
. A healthy collection of apps and cloud-based services could help Microsoft succeed despite those issues.
Image: Microsoft