Apple's
tracking of mobile users' locations
has been all over the Web since yesterday, with reactions ranging from yawns ("Everyone wants location-based services nowadays.") to the cynical ("Steve Jobs wants to eat your brains."). Okay, the last one's an exaggeration, but speculation sure runs the gamut.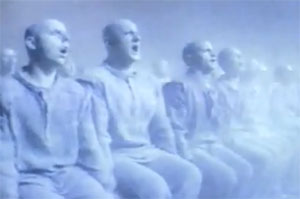 Whatever it's about, Nielsen's
got some numbers
about just how big a deal this is to consumers. More than half of app users worry about location privacy. (Specifically, 59 percent of females and 52 percent of males.) Pretty much every age group feels the same way. These numbers are at odds with
GigaOm's feeling
that "people are increasingly getting used to sharing their location, especially when it means getting something valuable in return." It cites a report by the company
JiWire
, which calls itself "the leader in connecting advertisers to today's On-The-Go Mobile Audience." Sounds impartial to me.
Andy Dickinson
, a teacher of digital and online journalism at the University of Central Lancashire,
told Britain's Channel 4 News
that the simple fact the location data wasn't "buried deep in Apple proprietary stuff" shows the motivation for gathering it was "benign." That could very well be the case. We all know the rule of intended consequences. There's no question more advertisers are looking for ways to reach people in one context or another. Google's said that its AdWords don't bother users because they match their interests at that moment. Given how popular the service is, I buy it. On the other hand, how many people appreciate spam, even when it's targeted? I don't know how this plays out, but it'll give those who want more thought given to privacy some new talking points. To say nothing of the app developer who comes up with a way to block this stuff.