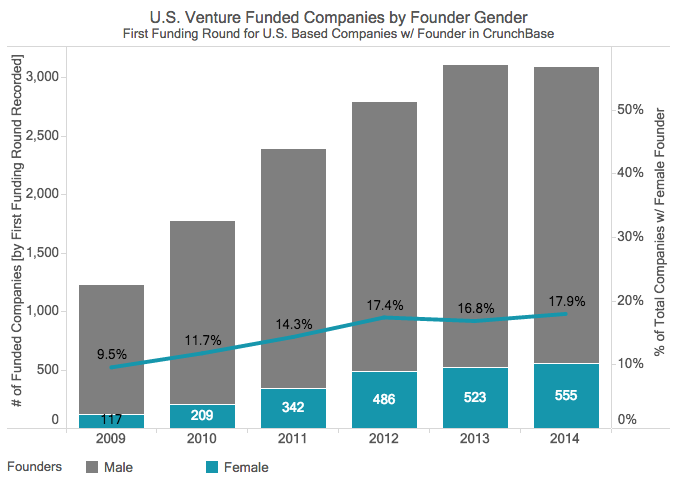 Since last summer, an increasing number of tech firms have
issued diversity reports
that break down their respective employee ranks by gender and race. Despite those datasets from well-established tech firms, startups remain something of a "black box" when it comes to demographic breakdowns,
according to TechCrunch
. But that could be changing. Gene Teare (head of content for
CrunchBase
) and Ned Desmond (COO of TechCrunch and CrunchBase) recently analyzed a dataset of U.S.-based startups from 2009-2014, with particular focus on founders' genders. Based on those five years of data, they concluded that women head up 15.5 percent of startups. Taking a closer look at the data also suggests that progressively more women have started their own firms. In 2009, for example, women constituted 9.5 percent of startup founders. By 2014, their ranks had increased to 18 percent.
Check out the latest startup jobs.
Women were heavily represented in young, seed- and angel-financed companies, but less so in older firms taking C-stage funding. "The elapsed time between a seed investment and a C stage can easily be 4-6 years, which means many of those later stage companies were founded several years ago, when there were many fewer women founders," Teare and Desmond
wrote in a blog posting
. "On that basis, it seems reasonable to expect the numbers to improve for later stage companies with a female founder as the years advance." Breaking things down by geography, Las Vegas boasted the highest number of female founders, with 26 percent of the total, followed by Oakland (25 percent), Pittsburgh (24 percent), Portland, Ore. (23 percent), and New York City (21 percent). That stands in stark contrast to San Francisco, where 16 percent of founders were women. Although the CEOs of major tech firms have engaged in
much public hand-wringing over their diversity numbers
, it seems that the startup community is moving in a positive direction, at least according to this one dataset. But more analysis could doubtlessly be done.