What was once a rarity is becoming common: Video interviewing has gone mainstream.
A survey
by Boston-based researcher Aberdeen Group found that 68 percent of organizations participated in live video interviewing in 2013 compared to 61 percent in 2012. While only 19 percent conducted prerecorded or asynchronous interviews last year, that's still up from 13 percent in 2012.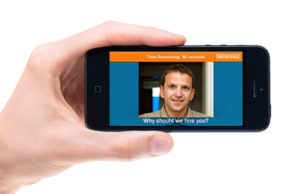 What's behind the trend? An increasing comfort with webcams and video communications platforms such as Skype. And then there's the financial benefits. Video interviews reduce travel costs, shorten the time to hire and extend employers' ability to connect with candidates across the globe. Some candidates actually prefer the format: They like the convenience of interviewing from home and find it easy to bond with hiring managers, even through what would seem like a remote connection. If you've mastered the art of the live video interview, congratulations. But don't rest on your laurels. The arrival of a new generation of interviewing platforms could further disrupt the hiring process.
Next Generation Video Interviews
Every few months,
new video interview companies
enter the market, says Aberdeen, and they have a lot of venture capital behind them. Although their services vary, most platforms facilitate two-way interviews over the Internet. In addition, they let employers cull candidates by viewing videotaped responses to questions. Whether these tools empower or hinder your search depends on your on-camera presence, video interviewing skills and point of view. Can you convince an employer to hire you in a single take? You may get only one chance to record your answer on
Interview4
,
or you may get several takes, depending on how the employer configures the software. On
HireVue
, you'll have just 30 seconds to read or hear a prerecorded question and a minute or two to respond. HireVue's website says that employers can control interviews just like a DVD player. They can replay, review and compare responses from several candidates to a particular question. If they want, they can skip ahead.
What It Means for You
Some platforms let you hone your skills by participating in practice interviews. Others let you record a promotional video, post it online and email the link to prospective employers. You can give companies a holistic view of everything you have to offer if they subscribe to a platform that integrates social media recruiting systems, applicant tracking software and candidate CRM. If you don't own a webcam, some interview companies may loan you one. And perfectionists may revel in the idea of reviewing and refining their responses to questions from the comfortable confines of their home office over several days. By the way, your "best side" is probably your left, according to a
new study
by Kelsey Blackburn and James Schirillo at Wake Forest University. Thought we'd share that tip, because whether you like them or not, video interviews are here to stay.
Related Stories