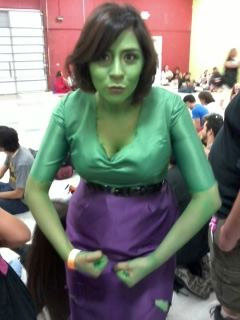 Whether it's PeeWee Herman or Urkel, the media and fashion businesses have had a limited grasp on what's often referred to as "geek" or "nerd chic." In its September issue, Women's Wear Daily devoted three pages to "the new nerd." Bulky, over-sized suits in bold colors and mismatched prints, cropped pants, clunky heels, jangly accessories and those giant,
ugly twee glasses
dominated. Within the tech world itself, the old meme is that men dress in ill-fitting mom jeans ("Jeans highlighting the flat curvature of the 40+ buttocks, according to the Urban Dictionary") or cargo pants; movie, comic and/or insider tech joke t-shirts or hoodies; and ugly shoes or flip flops. For women it's... Well, pretty much same. But for some reason, 2012 is the year of noticing how geeks actually dress. Or more importantly how some present themselves and how others think they should be presented. While the stereotype of badly clothed programmers still occasionally rings true, the new zeitgeist isn't accurate either. Tech, after all, is broad and many people in it are creatives. There has to be a spark of originality somewhere. Not long ago, the New York Times spotlighted a handful of Silicon Valley women in "Techies Break a Fashion Taboo." Unfortunately, it was one of the dullest pieces I've ever read about getting dressed. The women profiled were mostly Chanel, Oscar de la Renta and Jimmy Choo-wearing executives with King Kong salaries. They were presented as proof that someone fashionable could also be taken seriously, in fact that their sense to style was a near act of rebellion in a sea of khakis. Is the tech world that regressive?
It Depends on What Your Definition of 'Geek' Is
In a nod to the rank and file, the boutique Alice & Olivia has created a "career line of peplum blouses, blazers and cropped pants to cater to women in tech." The line's designer, Stacey Bendet Eisman, told the Times that since women in tech don't want to wear black suits, they can have some fun and allow for a bit of sophistication, as long as they hold the sexy. That's for the Hollywood girls. In the malls, this is Ann Taylor territory and while Bendet offers some less-than-cookie-cutter basics, they're pleasant, not special. StyleCaster, which bills itself as "the Homepage of Style," recently featured its "Top 25 IT Kids," but if the "kids" were the least bit edgy, their businesses were related to traditional entertainment media, where having a
look
is important. The site's "Geek Chic: 10 Most Stylish Social Media Gurus" was even more shocking. All of those gurus worked in fashion, style branding or nightlife. Considering the breadth of IT, those are pretty small pools to swim in.
Coding and Dressing, Dressing and Coding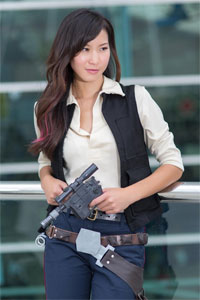 Emily Ong, creator of the blog The Stylish Geek -- who describes her site and Facebook page as "a crossover between geekdom and fashion" -- actually has a point of view. She's a project manager and gamer who combines her love of comics, SciFi and games with original style and a healthy sense of humor. A recent post on Facebook shows her sewing two tiny storm troopers onto a wide, black, stretch jersey head band. Another joyful look is the skirt she made out of vintage Star Wars bed sheets. I asked her what the response to The Stylish Geek has been like. "I think the general assumption is that, one, Geeky girls aren't into fashion and, two, geeks have no sense of style," she said. "I am actually part of a huge community of girl gamers and they have been super supportive and encouraging with their positive feedback. A lot of them have actually told me that they get inspired by looking at my blog, which is seriously the nicest thing someone could say."
Tech's Influence Goes Beyond the iPhone
The generational shift and changes in tech have played a big part in this recent boom of nerd style. Ong believes that tech's mainstreaming has had a massive impact on how people in the industry perceive themselves. "Being in front of a computer all day doesn't mean you're a "nerd" anymore," she notes. "I definitely think that being exposed to all this tech at a young age makes it way more acceptable for girls to express their love of tech or geeky things by the way they dress." Another site that bucks the faux trend is Fashionably Geek. Here, a handful of
bona fide
tech contributors curate links to sites that sell select clothing and accessories, as well post shots of superb tattoos and other arresting visual ephemera. Recent standouts include an elaborate, silver Spiderman cuff bracelet, bras whose cups are decorated with superhero artwork and an impressive selection of men's ornate leather hightops. There are plenty of nerd/geek sites that sell your favorite
Blade Runner
/
Avengers / Minecraft
T's. While not known for their overall originality, they often have single, cheeky items that can be mixed and matched with just about anything. The folks at Jinx have fun with their inventory. Beyond the usual items, they offer treats like the
Diablo III
Mistress of Pain Socks, a
Minecraft
iron sword belt and
Portal 2
inter-spatial earrings. Among other cool accessories, ThinkGeek features must-have
Star Wars
bathrobes. "I find it pretty funny how the nerd look has become really trendy with the whole big glasses, graphic tees, and converse shoes look," says Ong. "On one hand, I think it's great exposure having geeky things be 'cool' all of a sudden, but on the other hand, I think geeks like wearing stuff like that because it's a unique form of self-expression. Sometimes part of being geeky is being unconventional, and the fact that geeky trends are all over the place makes it a little harder to do that."

Related Links
Nerd Alert Designs
,
The Stylish Geek
;
Cheezburger