[caption id="attachment_13773" align="aligncenter" width="600"]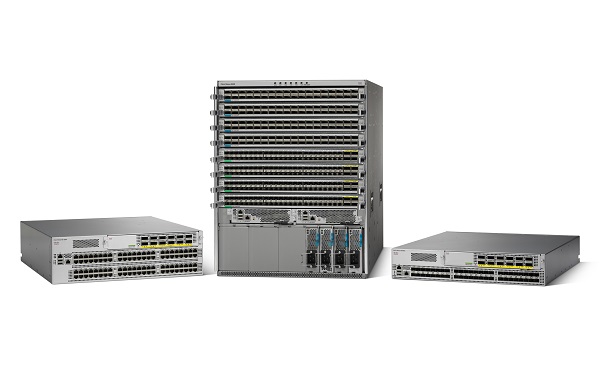 Cisco's ACI/SDN-enabling Nexus 9000 switch portfolio.[/caption] Cisco has laid out a new strategy and set of products to help it compete against the trend toward Software-Defined Networking (SDN) that excludes the very kind of premium hardware on which Cisco revenues depend. The old strategy was to pitch a hardware/software combination as higher-performing and more reliable than software-only models, while launching its own SDN spinoff called Insieme to take advantage of the growing market for virtual-networking software. The new strategy:
Buy back the 15 percent of Insieme it doesn't already own,
build Insieme's products into Cisco hardware, and present the new combination as the Application Centric Infrastructure (ACI).
Cisco's new approach boils down to adding SDN capabilities atop Cisco premium-priced hardware
and arguing that the result cuts total ownership costs by 75 percent compared to "software-only overlays," which is what Cisco calls software-only approaches to SDN. The resulting new strategy,
summarized in an Oct. 2 Network World story,
is remarkably similar to the old,
down to the list of reasons Cisco has used to counter the idea that customers better benefit from software-defined networks
than a combination of hardware and software. The first major release is a new line of Nexus 9000 switches with Insieme's Application Policy Infrastructure Controller (APIC) built in. APIC, a controller designed to run on Cisco's Unified Computing System (UCS) servers, creates profiles of specific applications as well as custom bandwidth, QoS, load balancing, and other performance specifications. APIC automatically configures the network to provide the resources required, and assigns resources and priority to applications according to those policies. "Policies remain with the application regardless of where the application resides, so you don't have the problem of thousands of ACLs that no one is really sure what they do," according to a statement from Ish Limkakeng, vice president at Insieme
quoted in Network Computing.
"When you change the application profile, it gets updated by the APIC to keep it consistent." Cisco will provide APIC upgrades from the NX-OS software on which its current hardware runs, but customers wanting to upgrade will have to buy new Nexus 9000 switches, which are currently the only option available to serve as the core of APIC-driven networks. In a Nov. 6
blog entry, Cisco CEO John Chambers called ACI
, with the ACI Controller and Nexus 9000 line of switches "the most disruptive architectural innovations in IT" that he'd seen in more than a decade. "ACI gives every administrator, whether they are focused on networking, security, storage, platforms or network services, the same view and the same single point of management for the whole IT infrastructure," he added. "Crucially, this single point of management extends to both physical and virtual networks." Cisco-published APIs allow third-party vendors including BMC, F5, NetApp, Puppet Labs, VMware and others to
integrate or extend their own products
with ACI setups. APIC-enabled Nexus 9000s can run either in full ACI mode using a combination of Cisco and generic third-party processors, or run entirely on merchant silicon using OpenFlow and OpenDaylight controllers atop Cisco's onePK integration platform,
according to Network World's Jim Duffy.
In full Cisco-centric ACI mode, the Nexus 9000 hardware-based-SDN is designed to deliver simplified, policy-driven automation, full real-time visibility of hardware and application performance, scalability, multi-tenancy for networks and the ability to integrate third-party products,
according to Cisco.
Image: Cisco Systems, Inc.