[caption id="attachment_12436" align="aligncenter" width="583"]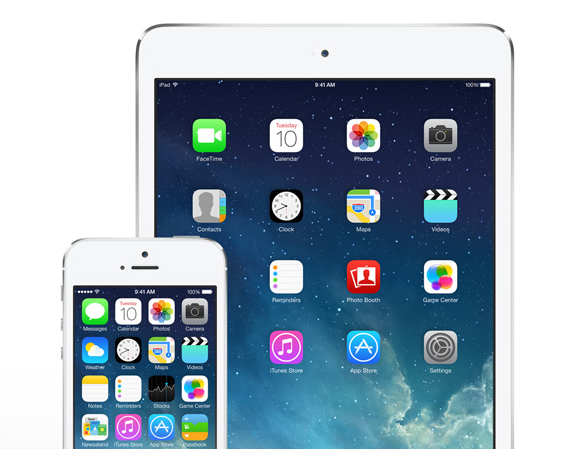 iOS 7, whether you like it or not.[/caption] If all goes according to plan, Apple will release iOS 7, the latest version of its popular mobile operating system, sometime Sept. 18. Should the company follow the pattern of previous iOS releases, the software will be available for download and install by the afternoon in the U.S.; that timetable may differ for international users. Here's what to expect:
New Candy Colors
With this latest release, iOS has undergone a visual overhaul. Not only did Jony Ive (Apple's longtime hardware designer, conscripted after a corporate shakeup into running the software-design side of things) strip away the skeuomorphistic elements from iOS—i.e., real-world details such as the green casino felt in the Game Center background, or the wooden shelving in the Newsstand app—in flavor of so-called "flat" design, but he also imbued the whole operating system with a hefty dose of bright colors.
Theories abound about the color switch
, but the fact remains that it'll be instantly apparent when someone upgrades.
Notification Center
The iOS 7 Notification Center consolidates the day's information in one handy place—for example, contacts' birthdays and recent messages. It's accessible by swiping downwards on any screen.
Control Center
Control Center is a separate screen with a smoked-glass backing and access to a variety of system controls, from Wi-Fi and Bluetooth to music and camera. Control Center is accessible by swiping upwards from any screen; it's a feature designed to prevent users from having to tap through quite so many screens to access the controls they need at any given moment.
AirDrop
This iOS 7 feature allows users to share photos, contacts, and videos by tapping Share and the name of a particular contact. Transfers are supposedly encrypted, and require WiFi or Bluetooth.
Improved Multitasking
Multitasking has been an iOS staple for quite some time; by pressing the Home button twice, a user could see a tray of tiny icons representing open programs. With iOS 7, Apple has introduced preview screens of each app, in addition to the icons; swiping up on any app will close it.
Siri
Apple's voice-activated digital assistant, Siri, gets a bit of a makeover in iOS 7. In addition to the longstanding female voice, this newest Siri update includes a male voice; Apple also claims the software is faster and capable of checking more sources for information, such as Wikipedia and Twitter.
Find My Phone
Switching off the Find My Phone app (and reactivating an iPhone) requires an Apple ID and password, which (at least in theory) better secures an iPhone that's either lost or stolen.
Camera Filters and Photo Folders
Instagram continues to exert its influence over the tech ecosystem, with a new collection of iOS camera filters including "Noir," "Process," "Transfer," and a whole bunch of others that basically make any photo look like your parents' Polaroid snapshots from 1981. Apple is also introducing Years, Collections, and Moments—glorified folders for organizing one's images.
Safari
The Safari Web browser's been improved with a unified "smart search" field (which allows the user to input search terms in addition to URLs), a refined Tab view, and the 256-bit AES encrypted iCloud keychain.
Maps
While it goes unmentioned in any of Apple's literature, it's likely that Apple's rolling its mapping-related acquisitions over the past few quarters into improvements to its much-maligned Maps app, but time will tell on this one.
Image: Apple