With the upcoming macOS 10.14 (Mojave), Apple is
introducing
a totally new Mac App Store experience. This offers a lot of opportunity for developers and companies from all corners of the tech ecosystem. Someone with a dismissive attitude might say the Mac App Store is simply being redesigned to mimic the iOS App Store refresh from last year. Indeed, the same design language permeates; users will be met with big, splashy 'app of the day' banners, as well as themed collections around events such as the World Series or Martin Luther King Jr. day. Individual app pages will also be redesigned in the new Mac App Store. Developers can add screenshots and videos, and the overall aesthetic will change to surface reviews and other app information. But beyond the design lies opportunity. A new sidebar categorically lists several topics Apple thinks its desktop users will find most useful: Discover, Create, Work, Play, and Develop. There's also a Categories list for everything else, and Updates (so users know if apps are waiting to restart with new features):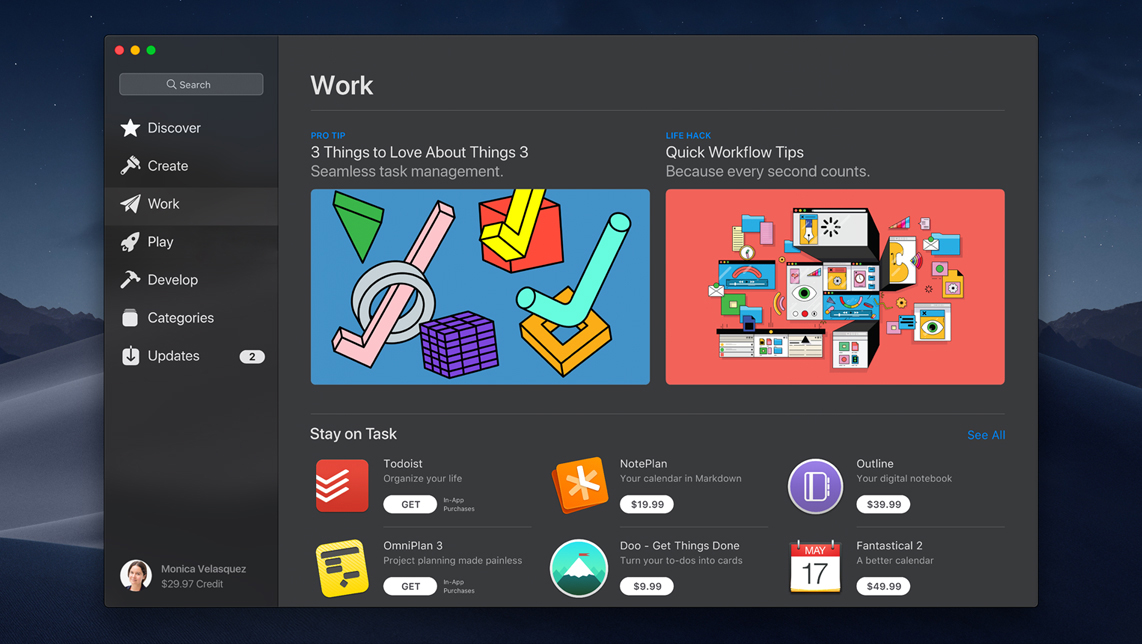 The new layout is not without merit for developers, at least in terms of traffic.
Apptopia data suggests
the iOS 'app of the day' slot leads to a download boost of
1,747 percent.
'Game of the day' candidates see a 792 percent bump. And these are averages, not best-case scenarios. In other words, the potential upshot of the redesign is massive for Mac developers. Desktop apps can be downloaded from anywhere on the web, but discovery is often difficult; referral websites such as
Product Hunt
can help, but that's another URL users have to remember to visit. The Mac App Store can potentially solve those kinds of discovery issues. (Speculatively, I think better search may be coming to the iOS and Mac App Stores. Apple Music quietly gained a search feature this year that allows you to type in lyrics and see which song they're from. That seems like a soak test for broader use in Apple's ecosystem, and the App Store is ripe for search disruption.) Apple is also separating signal from noise with broader strokes. While better app landing pages and feature curation help, the Mac is also ditching 32-bit apps. This move has two advantages: it will thin out the Mac App Store, and improve support for cross-platform apps. Mojave will be the last macOS version to support 32-bit apps in any form. High Sierra was the last to support legacy apps without a dip in performance, but Mojave represents a last stand against 'zombie' apps. After that, it's 64-bit only. Mojave will also support Apple's new iOS/macOS apps. At this year's WWDC,
Apple unveiled four of its own iOS apps for Mojave, a proof-of-concept for the ability to write once and deploy across Apple's ecosystem
. The target for this cross-platform launch is next year, but Apple is careful not to marry itself to a firm timeline here (and with good reason; we still don't have the AirPower pad announced at last year's WWDC, for example). We don't yet know how monetization might affect cross-platform apps. We're guessing Apple won't allow developers to charge twice simply because an app is available on two distinct platforms. Instead, apps for use on iOS and macOS will likely be billed as 'added value' for both paid and subscription models. (That seems the most sensible approach, at least.)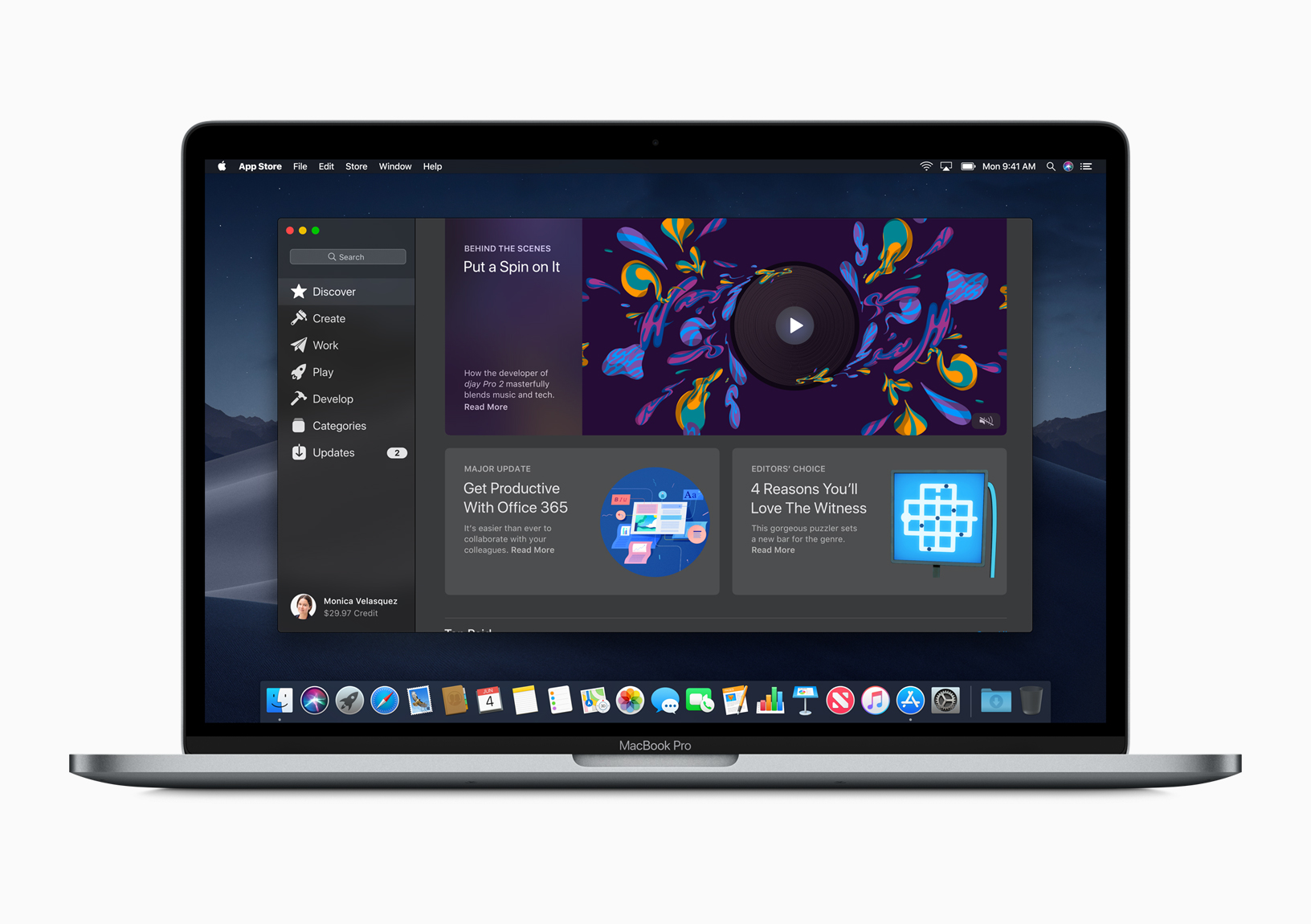 Developers and companies have two shots at gaining users if they embrace making their apps available for macOS and iOS, not to mention two chances at becoming app or game of the day in the app stores (and becoming part of curated collections). If a personalized experience surfaces apps that are more interesting, that increases the chances that people will visit more often and download more apps. The new Mac App Store feels less like an app repository and more like a digital storefront, and it's clear Apple wants it to be users' only destination for finding macOS apps. That it has the support of large companies and smaller shops alike suggests it won't play favorites on that front, either. All told, there's tremendous upside with the Mac App Store in Mojave. This time next year, you will still be able to download apps from anywhere on the web, but you might
want
to download from the Mac App Store.