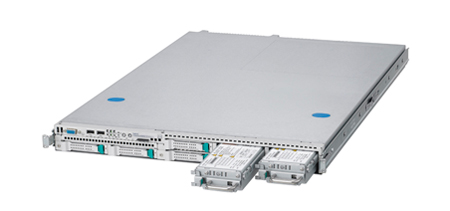 The laptop-like battery backup in NEC's new server isn't meant as a replacement for an uninterrupted power supply, but it could attract buyers looking for a power-saving feature. Although only sold in Japan so far, the
Express5800/E12d-1
could end up being sold worldwide,
according to PC World
. The Express5800 is offered in rack and modular versions. it appears that only the rack version (the Express5800/E120d-1) is equipped with the single battery, although a second can be added. The two models are otherwise nearly identical, with Intel E5-2400 microprocessors and the option of either 192 GB (modular) or 384 GB (rack) of memory. Although the units don't ship with a hard drive, they can support 4 terabytes of SATA storage or 3.6 TB via a SAS connection. The goal for NEC's new server is to save power by eliminating the uninterrupted power supply (UPS) from the system. Switching back and forth from AC to DC and back again wastes a small amount of power in each conversion; over time, the switching costs add up. NEC believes it can achieve power savings of up to 5 percent per rack. NEC said that the new Express5800 version saves 14 percent power over the previous version. The servers are designed to be tolerant of inlet air temperatures of up to 40 degrees centigrade, which has been shown to reduce power consumption further by minimizing cooling costs. NEC, in fact, has been one of the companies leading the charge on warm ambient-temperature server operation.
In late November
, four companies—NEC Corporation, Toyo Netsu Kogyo Kaisha Limited, NEC Fielding Ltd., and NSK Ltd.—announced a joint project to develop a warm-air server that consumes 20 percent to 30 percent less energy than a "standard" model, thanks to a hybrid system that combines natural ventilation, mechanical ventilation, and air conditioning. Datacenter operators shouldn't expect the battery backups to tide them over in the case of power loss, however; the charge is just about enough to safely spin the servers down and turn them off. When both batteries are used, PC World reported, they can deliver 100 watts for 15 minutes and 30 seconds, or six minutes and 40 seconds with a single battery. The dual setup can provide power for 3 minutes and 40 seconds when the server is maxed out at 311 watts. NEC will ship them on Dec. 26, for 316,000 yen ($3,758) for the rack system and 201,000 yen ($2390.00) for the modular version.
Image: NEC