[caption id="attachment_10712" align="aligncenter" width="615"]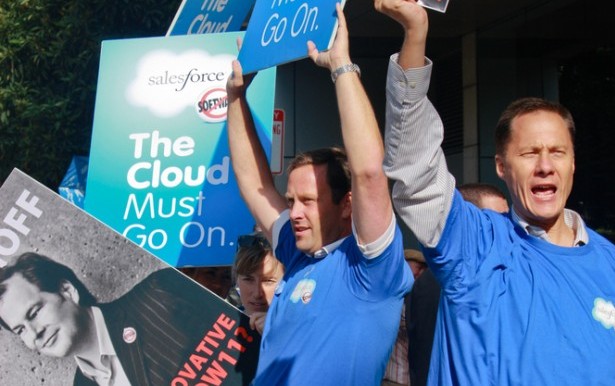 Believe it or not, the rivalry between Oracle and Salesforce has actually inspired protests.[/caption] Once upon a time, Salesforce CEO Marc Benioff and Oracle CEO Larry Ellison took what seemed like inordinate amounts of pleasure in firing off verbal broadsides at each other. In 2011, for example,
Ellison referred to Salesforce
as "the roach motel of clouds" and "a very bad security model." Benioff Tweeted back: "You can't buy this type of advertising. Thank you Larry!" Nor was that their only clash: who could forget Benioff's
much-publicized swipe at Oracle's early cloud efforts
as "cloud in a box" and "just another server"? This was more than a competition between two executives with a taste for public battle: it was a rivalry between business models. Benioff has always insisted that cloud-based services are the future of software, while Ellison's Oracle spent years pushing the idea of an integrated hardware-software stack, complete with lots of very expensive on-premises infrastructure. In 2008, Ellison termed the tech industry's obsession over cloud computing as "complete gibberish" and "insane." But oh, how things change. Roughly a year after announcing that Oracle would jump into the cloud in a big way—the resulting Oracle Cloud offers dozens of enterprise services, and the company has made several cloud-related acquisitions—Ellison and Benioff revealed that their firms would come together in a joint effort.
Under the terms of their nine-year agreement
, Salesforce will standardize on the Oracle Linux operating system, Oracle Database 12c and Java Middleware Platform, while Oracle will include Salesforce's cloud-software offerings in the Oracle Fusion HCM and Financial Cloud. In a conference call detailing the partnership, the CEOs were on their best behavior. "The Oracle database has been a key part of Salesforce 's infrastructure from the very beginning of our company 14 years ago," Benioff told Ellison at one point,
according to a transcript posted on ZDNet
. "Absolutely the best decision we ever made was to go with Oracle." Ellison, a little bit later: "I'm looking forward to working with Marc and Salesforce for years to come." Why the sudden reversal? Simply put, after years of sticking with that aforementioned hardware-and-software model, Oracle now has cloud religion—and the best way to quickly build up its cloud presence is to make strategic alliances with companies that have already expended considerable resources in their own cloud efforts. At the same time it announced the Salesforce partnership,
Oracle also revealed an alliance with Microsoft
that will see Oracle software supported on Windows Server Hyper-V and Windows Azure. Whether or not these moves jog Oracle's profits, it's great PR: now the company can argue to current and prospective clients that it's future-oriented and cloud-optimized. But for Salesforce, the benefits are a little murkier. Oracle will continue to sell Oracle products, while Salesforce will focus on its own portfolio—there's no cross-selling here, no deploying of Oracle's massive sales army to sell products that fatten Salesforce's bottom line. It's unclear whether Salesforce will use the alliance as a way to integrate Java (which Oracle owns, thanks to its Sun acquisition) into its cloud offerings. In fact, it's unclear if Salesforce can really make any money at all off the integration, as the bulk of the benefits of the alliance seem focused in-house; its infrastructure costs might go down, for instance, depending on how it blends Oracle's hardware and software into its current technology stack. At least one analyst thinks the deal will benefit Salesforce in significant ways. "By laying out a nine year plan to run Salesforce.com applications on Oracle hardware, Salesforce.com guarantees a high level of performance and further increases its enterprise profile atop Oracle's proven brand," Elizabeth Hedstrom Henlin and Jillian Mirandi, analysts with Technology Business Research, wrote in a June 28 research note. "Through a collaborative relationship and improved integrations outlined by Ellison and Benioff, Salesforce.com has permission to play inside Oracle's large customer base." In light of that, they wrote, "we believe many Oracle CRM customers looking to migrate CRM to the cloud will move to Salesforce.com CRM once integrations are completed." However it all pans out, at least one thing is clear: Benioff and Ellison are burying the hatchet, at least for the moment.
Image: drserg/Shutterstock.com