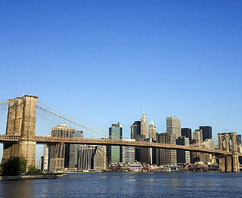 Startup Scene Stays Healthy:
VC dollars are still flowing in New York. Some $1.7 billion was invested in local tech startups during the 12 months ended June 30. During that time, Gilt Groupe became the first New York Web 2.0 company to gain a $1 billion valuation. It raised $138 million in the past year, while another nine tech darlings raised at least $25 million each.
The New York Post
Boston Beats New York in Startup Cash:
Alas, not only are the Red Sox two games up, but Boston topped New York in venture funding during the first half. Hub startups drew in $1.9 billion from January to June, 30 percent more than new firms here. This reverses the trend set last year, when New York drew in $2.29 billion and Boston attracted $2.20 billion.
WNYC.org
High Taxes May Hurt City's Tech Sector:
Tech experts say that high taxes are the single biggest challenge facing the city's startups, outweighing even the high cost of real estate and talent as a barrier to establishing or growing a business. Both local personal taxes and business income taxes per dollar of income is many times higher than the average of the eight next largest cities in country.
Crain's
NYI Internet Co-location Opens Second Data Center in N.J.:
Co-location provider NYI Internet opened a second data center in Bridgewater, N.J. The opening expands follows the opening of a 40,000 square foot data center in October 2009. Since its inception in 1996, the company has grown beyond the New York market now offers services in more than 20 global markets. The new data center will serve small- to medium-sized businesses in the New York and New Jersey markets that require disaster recovery and business continuity services.
Web Host Industry Review
New York Entrepreneurs Pitch VCs on FinTech Startups:
More than 70 venture capitalists and other investors participated in the FinTech Innovation Lab demo day. The lab was a 12-week program for startups developing technologies to serve the financial services industry. The six companies selected for the incubator-like experience — which was created by the New York City Investment Fund and Accenture — were in stealth mode until their presentations. During the program, the startup execs were mentored by representatives from 10 of the world's top banks. The six companies received $25,000 in seed funding from the Investment Fund and indicated during their presentations that they want to raise initial rounds of between $1 million and $5 million.
Xconomy
Kevin Ryan Aims for Three Billion-Dollar Firms:
Kevin P. Ryan doesn't mess around. He's the only person who can lay claim to two NYC-born companies that are valued at more than $1 billion dollars each. First came DoubleClick, and now there's Gilt Groupe. 10gen, a third start-up focused on tech support and training, is heading in the billion-dollar direction, too, Ryan says. "That's the one that's going to surprise the most people," he believes. "A lot of people know about Gilt, but a lot of people don't know about 10gen. 10gen might wind up being the most valuable tech company in New York."
The New York Post