[caption id="attachment_9586" align="aligncenter" width="618"]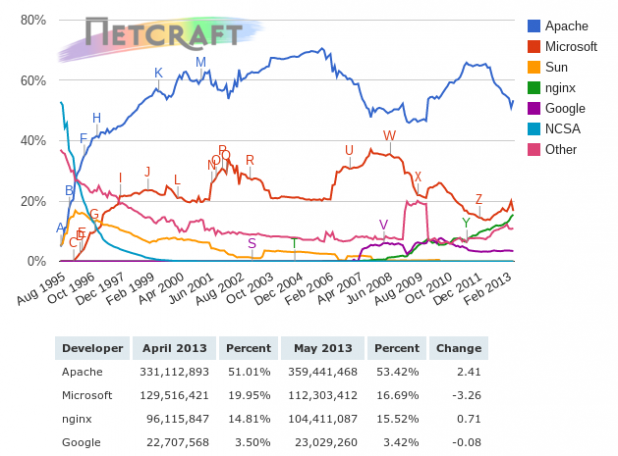 Web server developers: Market share of all sites.[/caption] While Apache continues to dominate among Web servers, new data from Netcraft suggests that Nginx has become a consistent gainer—to the point where the latter threatens to overtake Microsoft IIS.
The Netcraft Web server survey for May
sampled 672.8 million Websites. Among HTTP Web servers, Apache has remained the Web's leader since 1996, reaching heights of 71 percent in 2005 and 65 percent in April 2012. In May 2013, Apache gained 2.41 percentage points to finish with 53.42 percent of the market, Netcraft reported. Meanwhile, the share of the Web used by Microsoft Server software fell 3.26 percentage points to 16.69 percent, while Nginx climbed 0.71 percentage points to 15.52 percent.
Nginx
, an open-source reverse proxy and HTTP server, has been used to power a number of Russian sites, including Mail.ru and Yandex (among others). It also has been used extensively by Wordpress, Netcraft reported. Netcraft estimates Nginx's service footprint over 100 million sites, surpassing Microsoft on the
Million Busiest Websites subset
as well as all active sites on the Web. On the latter, Nginx has climbed from nothing in 2007 to service 13 percent of all active sites, versus 12 percent for Microsoft and 54 percent for Apache. Nginx released its second stable version, nginx 1.4.0, last week, integrating OCSP stapling and experimental SPDY draft 2 support. Still, it's not all a catastrophe for Microsoft. In fact, Redmond can blame GoDaddy, the largest domain-name registrar, for its drop. Seventy-five percent of websites hosted by GoDaddy now use Apache Traffic Server, Netcraft reported, and GoDaddy now hosts 99 percent of all sites using this server software. Microsoft gained more new sites than any competitor in May, Netcraft added, with 43 percent of all new websites served on Microsoft IIS (which also runs 30 percent of "expired" websites such as inactive blogs and sites that no longer exist). Nevertheless, Nginx seems to be in the passing lane—and if Microsoft doesn't watch out, it's going to be watching the taillights yet another piece of open-source software.
Image: Netcraft