[caption id="attachment_4165" align="aligncenter" width="618"]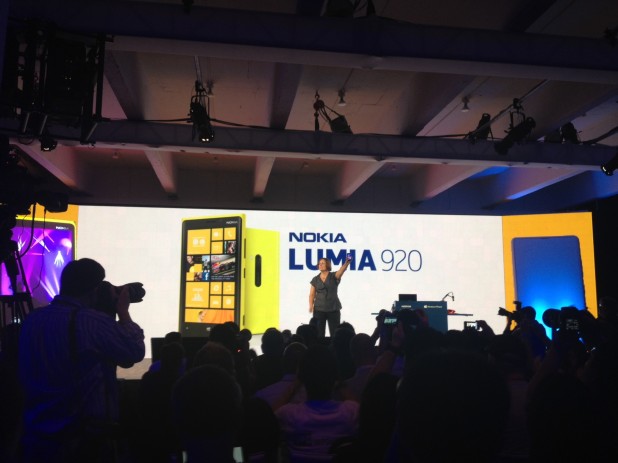 Nokia executive vice president Jo Harlow shows off the Lumia 920 to the media and analysts.[/caption] Microsoft and Nokia whipped the curtain back from the latter's first Windows Phone 8 smartphones Sept. 5. First up was the flagship Lumia 920, followed by the Lumia 820. Nokia CEO Stephen Elop first took to the stage at Center548 on New York City's West Side, where Microsoft had first unveiled Windows Phone 7 in late 2010, to claim that Nokia was becoming a "more nimble competitor" thanks to several strategic decisions under his tenure, including the choice of Windows Phone as the company's primary smartphone platform. He left the actual introduction of Nokia's Windows Phone devices to executive vice president Jo Harlow. She held up a bright yellow Lumia 920, detailing its features: a camera with PureView technology, built-in wireless charging, and "City Lens," an augmented-reality app that overlays information on images of the environment. Nokia's PureMotion HD+ is the company's name for its tweaks to the display, including blur-free scrolling. In terms of other hardware: the battery is 2000 mAh; the processor is a dual-core Snapdragon S4, which was apparently selected for its energy efficiency; and the aforementioned wireless charging, based on the "Qi" wireless charging standard. [caption id="attachment_4177" align="aligncenter" width="450"]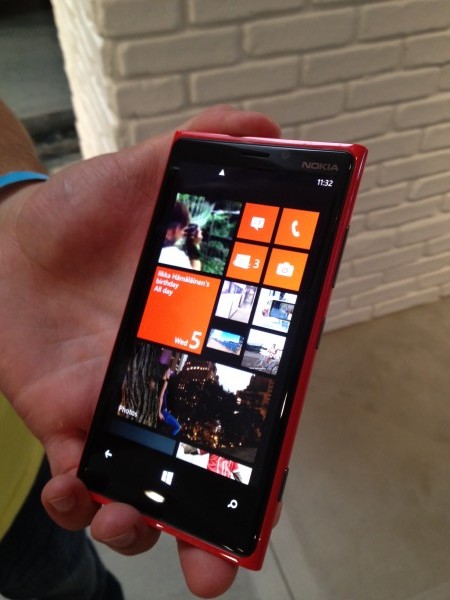 The Lumia 920[/caption] "This is Lumia, and it's time to switch," she said, in what felt like a possible official tagline for the device. Joe Belfiore, Microsoft's corporate vice president and a frequent Windows Phone presenter at the company's official events, then took the stage to detail the Windows Phone 8 platform: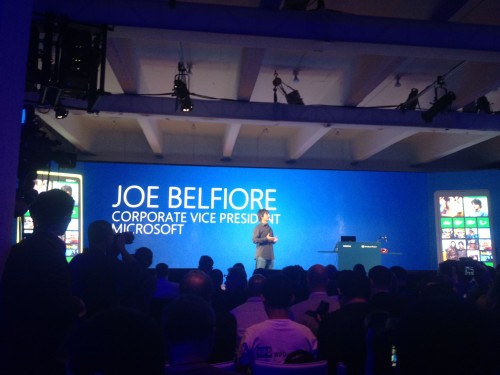 Windows Phone 8 is different in several key ways from Windows Phone 7.x. While it retains the design aesthetic of the previous version, complete with a home screen of colorful tiles linked to applications, users can adjust the size of those tiles to create a much more customized interface. Windows Phone 8 shares a kernel, file system, graphics support, and other elements with Microsoft's upcoming Windows 8. That linkage will allow developers to port apps from Windows 8 to Windows Phone 8, which could encourage growth of the latter's ecosystem (and raise its profile in general). Windows Phone 8 will also support a broader range of hardware than Windows Phone 7, including 1280 x 760 screen resolution: [caption id="attachment_4167" align="aligncenter" width="300"]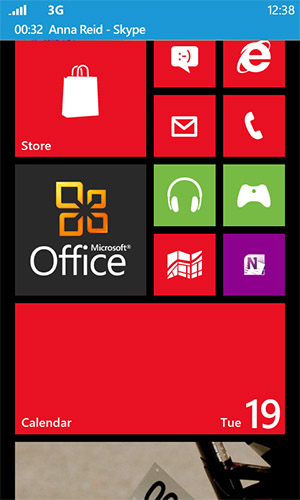 Windows Phone 8 home screen.[/caption] Back in June, Microsoft announced that additional Windows Phone 8 features include secure boot and encryption, Nokia's mapping technology (with offline capability and turn-by-turn navigation), and Near Field Communication (NFC), which will allow users to treat their smartphones as an electronic wallet. The question is whether Nokia (and other smartphone manufacturers) will include all those features in their respective devices. Nokia also introduced the Lumia 820, a midrange Windows Phone 8 smartphone with removable shells in a variety of colors, including purple and blue. The device features a 4.3-inch ClearBlack display, Carl Zeiss optics, and software such as Nokia Music and City Lens. Microsoft CEO Steve Ballmer took the stage near the end of the presentation to highlight how far his company has come "in just 18 months" with regard to Windows Phone, and to highlight the interoperability between the smartphone platform and the broader Windows ecosystem. "I'll bet you right now that the next app developer to hit it really big will be a developer on Windows," he said.
A Rocky Road Ahead?
Nokia's plans weren't exactly a tightly guarded secret. On Aug. 31, the Twitter feed
@evleaks
posted a pair of images titled, respectively, "4.3-inch Nokia Lumia 820" and "4.5-inch Nokia Lumia 920 with PureView." The devices in those images shared many aesthetic similarities with previous smartphones in Nokia's Lumia line: a unibody design (presumably made out of the same polycarbonate) available in a variety of colors, and a slightly curved screen (presumably the same ClearBlack display available in those other Lumia devices). Whether a corporate-sanctioned leak in the name of building buzz, or merely the act of some enterprising Twitterer with access to Nokia's press images, the purported shots helped draw attention to Nokia's Sept. 5 event, which the Finnish manufacturer had decided to promote in the most enigmatic way possible: a short video to promote the event featured only
a blonde girl bike-riding down some sort of pier
. Despite the enthusiasm displayed onstage for Windows Phone 8, the new smartphone platform poses something of a conundrum for Nokia. The company invested heavily in Windows Phone 7, all but abandoning its homegrown operating systems—including Symbian, once a dominant player in the mobile arena—in favor of Microsoft's platform. But those Windows Phone 7 smartphones won't upgrade to Windows Phone 8 software, and nor will they run Windows Phone 8 apps. Microsoft has declined to say whether Windows Phone 7.x will continue beyond version 7.8, due later this year. That sort of silence is almost never a good sign. If no future upgrade path exists, then Microsoft and Nokia face something of a challenge: convincing early Windows Phone and Lumia adopters to stick with the platform, while trying to draw in hordes of new users. There's nothing less at stake than the future of Nokia, as well as Microsoft's ability to compete in mobile against Apple and Google.
Editor's Note: Updated with additional info about the Lumia 82o, as well as a ton more photos. Also, a correction to the Snapdragon S4 processor.
Images: Slashdot/Microsoft