[caption id="attachment_10253" align="aligncenter" width="618"]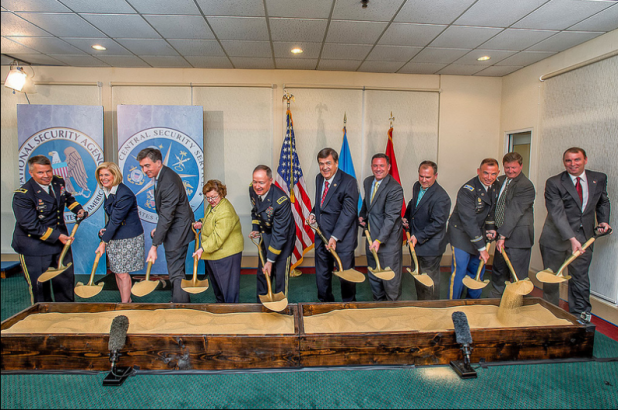 This is how the NSA breaks ground on new facilities.[/caption] National Security Agency is building another big data center in Maryland. This one isn't as big as the agency's
massive facility in Bluffdale, Utah
. But with a plan calling for 70,000 square feet of data-center space, backed by almost $900 million in funds, the facility isn't exactly small. The NSA has acknowledged a need for bigger data storage and data-analysis facilities, as well as more high-performance-computing power to crack digital encryption—the justification behind its building of the Utah facility.
The agency reportedly operates six high-performance computing centers
, with this new one planned since at least 2010, when it
filed an environmental impact statement
for a 227-acre space labeled "Site M" at Ft. Meade, Maryland. The agency broke ground at the location on May 6, according to an announcement, which also made a point of stating: "The center's work will be grounded in an adherence to the U.S. Constitution and compliance with U.S. laws and regulations that govern the Intelligence Community." The first phase of construction will be a 600,000-square-foot facility with 70,000 square feet of datacenter space. The $895.6 million budget will include $15.1 million for building security and $21.7 million for perimeter security.
Defense-industry giant BAE Systems won the $127 million contract
to build the facility's network infrastructure; it will also develop network-management capabilities and develop custom software for NSA's High Performance Computing Infrastructure Group. The facility's user base could grow to more than 3,000 users. There will also be a 60-megawatt power plant and a 30,000-ton chiller plant. Despite the size and ambition of the new center, it will be energy efficient; its specs require that it comply with the U.S. Green Building Council's LEED certification for power- and resource-efficiency. The
Comprehensive National Cybersecurity Initiative
, a White House project launched in 2008, would pay for the new Maryland facility, which would consolidate unnamed intelligence-community facilities under its roof. The Utah datacenter is due to open in September. The new HPCC2 facility in Maryland is scheduled for completion in 2016. The
Guardian
and
The Washington Post
recently issued highly controversial articles
describing an NSA project codenamed Prism,
which allegedly taps into the internal databases of nine major technology companies: Microsoft, Google, Yahoo, Facebook, PalTalk, YouTube, Skype, AOL, and Apple. Both publications drew their information from an internal PowerPoint presentation used to train intelligence operatives. "Firsthand experience with these systems, and horror at their capabilities, is what drove a career intelligence officer to provide PowerPoint slides about PRISM and supporting materials," the
Post
wrote at the conclusion of its article. But James R. Clapper, the nation's Director of National Intelligence, claimed that recent reports about the NSA monitoring Americans' Internet and phone communications are inaccurate.
"The Guardian
and
The Washington Post
articles refer to collection of communications pursuant to Section 702 of the Foreign Intelligence Surveillance Act," he wrote in a
June 6 statement
. "They contain numerous inaccuracies." Whatever the truth of the story, it's clear the NSA has a lot of data crunching to do.
Image: National Security Agency