[caption id="attachment_13608" align="aligncenter" width="600"]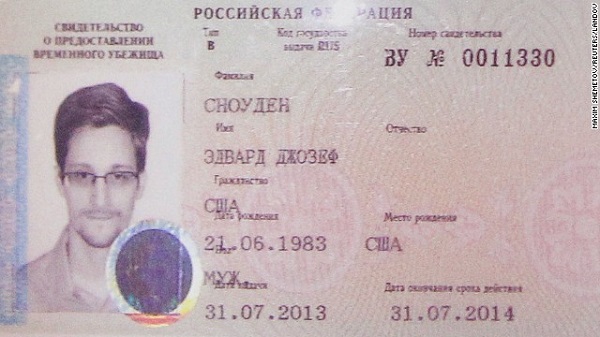 ID issued to Edward Snowden after Russia granted one year of asylum[/caption] The National Security Agency (NSA) was quick to deny charges it had vastly increased its surveillance of U.S. residents by
tapping the datacenter networks of search giants Yahoo and Google.
It was just as quick to predict there would be no change in its policies or practices following the Edward Snowden leaks, despite public outrage so intense it
prompted Republicans and Democrats in Congress to work together
on legislation designed to rein in the agency. Revelations from former NSA and CIA contractor Edward Snowden – including the man-in-the-middle attacks by the NSA on Yahoo and Google that were revealed Oct. 30 – make clear that Congress must do a thorough review of all U.S. intelligence programs so it knows what the NSA and other intelligence agencies are actually doing, according to Dianne Feinstein (D.-Calif.), chair of the Senate Intelligence Committee. "Dianne Feinstein has legitimate outrage over this but saying we need to change the rules and actually creating a mechanism that will effectively change the rules and allow Congress to monitor it is a completely different story," according to
John Sano, a retired CIA Clandestine Service official quoted in the ABCNews story.
Snowden's leaks have already revealed how extensive the NSA's abilities are, leaving little incentive to change them, Sano said. Agreements in place between the U.S. and its allies to exchange intelligence information also give foreign governments enough value to help them overlook any alleged improprieties in U.S. intelligence-collection methods, according to intelligence officials quoted in the story. The NSA may not be planning any changes, but Snowden is moving on with his life – into an IT support job for a Russian Web site, according to briefings to CNN and other news outlets from
Snowden's attorney Anatoly Kucherena.
Snowden fled to Hong Kong after the first round of revelations in May, then to Moscow, where he was forced to live in the airport for five weeks until the Russian government granted him a one-year term of asylum that began August 1. "Edward starts working from November 1,"
Kucherena told Russian news service RIA Novosti.
"He will be part of the support team of one of the largest Russian websites. I can't say the name of the website now for security reasons." Kucherena didn't say what kind of maintenance Snowden would be doing, or how public his work might be. Russian tech-news site Digit.ru suggested he might be working at VKontakte.ru, Russia's equivalent of Facebook, according to RIA Novosti. A spokesman for VKontakte.ru suggested in August that the service might be interested in
hiring Snowden to work on encryption and security protocols protecting the correspondence of users.
The site has built elaborate security protocols to prevent eavesdropping, though Russian laws require that Internet services give security services passes through their security – a rule that became well known only after reports that the Russian security service
FSB had built an enormous eavesdropping system designed to be able to listen in on every electronic communication going in or out of the Winter Olympic Games
being held in the Black-Sea resort of Sochi Feb. 7-23 2014. Asked Oct. 31 by RIA Novosti to
confirm or deny that Snowden's new job was with VKontakte, Lobushkin
said he could not comment, but also couldn't rule it out.
Image: Russian Federation via CNN