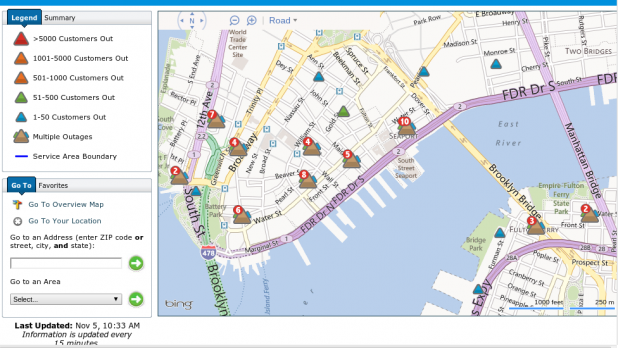 Days after Hurricane Sandy, things are almost back to normal among the affected data centers in New York City. But Verizon has sounded a warning note that its communications infrastructure could take a bit longer to fully restore in lower Manhattan. Although the ConEd map shows several outages remaining, the number of affected customers in lower Manhattan is relatively small. Around Pearl St., for example, ConEd shows eight outages, but only 13 customers or so are affected. That doesn't mean that lower Manhattan is operating normally, but more and more businesses and consumers are up and running. That's good news for data center operators, who can move out of the recovery stage and back to something akin to normal operations. Below is the Nov. 5 update from many of the data-center providers and some of the communications providers in the area, some of which were unchanged from previous days:
AtlanticMetro:
All three New York City area facilities—LGA1 at 325 Hudson St., LGA4 at 121 Varick St., and the NJ3 location—are running on utility power, the company said Monday morning. The company's network operation center is back to normal operations, Atlantic Metro said via Twitter. The company's corporate offices, however, are without power, so the company advised sending billing questions via email, to billing@atlanticmetro.net.
AT&T:
More than 90 percent of our cell sites across New York City including Manhattan are back in service, the carrier said on Monday. AT&T also said that it would keep its charging stations open through Monday (
here's a list of them
). Customers can also bring their phones into AT&T stores to recharge them. AT&T also said that it has deployed generators and fuel trucks where needed to make sure its infrastructure continues to run.
CoreSite:
No issues, and no updates since Oct. 30, when the company said that its data centers were not affected by the hurricane.
Datagram:
The company appears to be back up and running, based on client sites such as the Gawker network, which returned to publishing in its regular format. Datagram said previously that it didn't have a generator onsite. Atlantic Metro sent a Tweet to its fellow operator Nov. 4: "
@DatagramNYC
we applaud your efforts. Your devotion to customer service really shows. Good luck getting thru to the jokers in building mgmt!"
Equinix:
Equinix appears to be stable and back in action. "Great news to report this evening," the company said the night of Nov. 3. "Our Secaucus, NJ data centers (NY2, NY4 and NY5) are now back on utility power. That means all of our sites in the New York metro area are now operating normally on utility power."
Ezzi:
Ezzi operates three facilities: at 882 Third Ave. in Brooklyn, and at 75 Broad St. and 25 Broadway. The company has not published any updates on its Web site or Twitter feed.
FiberMedia:
"At this time, the FiberMedia data center at 882 3rd Avenue is still running on generator power," the company said at 8 PM EST Nov. 4, the latest update. "The fuel supply continues to be reliably replenished several times a day. This afternoon Con Edison restored utility power to the building, however we will remain on generator power until we can verify the stability of the power systems. FiberMedia Engineers will be monitoring the stability in preparation for transfer back to Utility, we will communicate an update tomorrow [Nov. 5]."
Internap:
The Internap facility at 111 8th (NYM008) is running on UPS-conditioned utility power and all systems are operating normally,
the company said
: "All Agile and IP service points continue to operate normally at this time." However, its second facility at 75 Broad is running on UPS-conditioned generator fed power. "All systems are operating normally," Internpa said. "We are fueled to roughly 7.5 days of runtime capabilities. All water has been pumped from the sub-basement floors and both Internap and building engineers are currently investigating the infrastructure to determine when we may be able to return to utility. Further updates will be sent as information is gathered."
Level3 Communications:
"Level 3 has not experienced any major service disruption as a result of the storm, but has rerouted network traffic in select areas where necessary to ensure service continuity," the company said on Nov. 2. The company has issued no further updates.
New York Internet:
The company's data center, uphill in Zone C, has ridden out Sandy without any outages, according to Netcraft.
Peer1:
Peer1's bucket brigade at 75 Broad carried diesel fuel up 18 flights of stairs to the generators that kept operations running. The company has so far refused to provide updates, preferring to let its customers provide on-the-ground communications. On Nov. 5, Fog Creek Software reported that "power and internet access have been restored to our office in Manhattan, but our phones are currently down. Verizon is working on restoring services to our area." SquareSpace is also apparently back in action. "Squarespace office infrastructure in Soho is now completely restored, and we are ready to develop again and get rolling on Monday" the company reported the night of Nov. 4. "We will continue to provide updates related to the Peer1 facility as more news emerges. The situation remains stable at this time."
Telx:
As of Nov. 3 at 9 AM EST, all of Telx's facilities had returned to utility power. The company's headquarters will remain closed through Nov. 15, although its call centers remain open.
Telehouse:
No outages. NYIIX (
New York International Internet eXchange
) continues to operate normally from all exchange points, the company said Nov. 2. Telehouse is now offering co-location space, telecom circuit cabling and IT Support services on a temporary basis (or limited basis) at all three of the company's New York City Data Center facilities: 25 Broadway, Chelsea at 85 10th Ave., and the Teleport in Staten Island. Quarter, half and full cabinets are available on temporary one month or more basis over the next 60 days, in addition to long term commitments.
Verizon:
Verizon sounded a bit of a warning note about its return to full-scale operations. "Late Saturday night (Nov. 3), the utility company serving much of the New York City area revised its estimate for restoration of commercial power to lower Manhattan, pushing the date out to Friday (Nov. 9)," the carrier reported Nov. 4 "...This complicates Verizon's ability to get services back up and running at a couple of key facilities serving business clients." The problem? Seawater. "We pumped approximately 1 million gallons of floodwater out of our headquarters building in Lower Manhattan, and we expect to begin working to get the remaining New York City facilities up and running once power is restored," Verizon added. "Because of the corrosive nature of salt water, we expect complications with copper and fiber within these facilities. In addition last night, we restored a key New York City facility to generator power, re-establishing services for our large multinational clients." However, there was some good news: another critical Verizon facility in lower Manhattan is now back in operation on backup power after unprecedented flooding in the area. "The company has restored backup power to five of these key facilities, which provide phone, Internet and TV services for consumers and small businesses in the area, as well as sophisticated data communications for financial services, other enterprises and government agencies."
Image: ConEd