By Rob Pakus
Nowadays it seems the gaming and gadget hype is all about 3-D TVs and next-generation consoles. I'm more interested in the evolutionary reincarnation of virtual reality gaming, specifically in the form of Oculus VR's virtual reality headset, aptly named the Oculus Rift. In case you missed the excitement, here's a quick summary of its rise to fame.
Kickstarter Launches a Virtual Reality Brand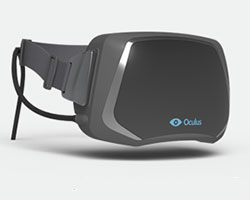 Oculus Rift founder Palmer Lucky is an avid VR headset collector, as well as a heads-mounted-display designer who works on VR military application. It's been his dream to create a viable, affordable VR headset. When he met ID Software's John Carmack a year or so ago, a creative partnership was born. They developed a prototype that produced a huge buzz at the last year's E3. Palmer leveraged that momentum into a massively successful Kickstarter campaign. His goal was to raise $250,000, but funders were so excited that within the first 36 hours, he raised over $1 million, ultimately pulling in $2.4 million. Take note – this online funding crusade was merely a pre-sell of early developer kits and wasn't even intended for end-users. So far, as many as 1,900 kits have been shipped worldwide, with another 2,000 planned to ship before the end of April.
The Technology Behind the Developer Kits
Imagine a pair of ski goggles with an enclosed 720P resolution 7-inch LCD panel (1280x800 resolution total and 640x800 resolution per eye), and an additional strap over the top of your head for extra support. The goggles are cabled to a small video input box about the size of a six-port router. The box supports both DVI and HDMI. Another USB cable connects the box to the user's PC to send head-tracking information to the game. The system doesn't include speakers or headphones, but you can comfortably wear your own. The Rift's LCD screen is unique from competitive offerings. Despite its flat panel, the shared screen and inside lens mount allow you to experience a kind of curved, fish-eye effect. It envelops your entire field of vision with 110 diagonal degrees of edge-to-edge screen (90 degrees vertical). This "everywhere you look" effect provides a major WOW factor. Another area where the Rift really shines is in head tracking. This snappy feature lets you move your noggin in any conceivable angle in order to look around in the game's world. It accomplishes this sleight of hand through a 1,000 Hz refresh rate on its head tracking, relying on combined sensor data from its internal accelerometer, magnetometer, and gyroscope. The data from these sensors is combined together in a process called "sensor fusion." The algorithms and fast reporting rates of the sensors combine to produce what feels like an immediate response to head movements. The Rift ships with three interchangeable lenses that can be popped in and out to suit your visual needs. Screen distance can be customized with a twist of a flat head screw driver. Oculus VR is also throwing in some other developer goodies, including an SDK which provides software libraries, documentation and samples for integration into any game, the Unreal Engine 3 and Unity engine support, and a four month Unity Pro demo license. For a pre-consumer build, the kit provides a surprising level of comfort, customization and quality, and is a bargain at $300.
Plans for the Consumer Model
A consumer model is being targeted for the third quarter of 2014. Lucky's hinted at improvements that may include a thinner, lighter LCD screen, higher pixel density than the developer model, additional screen latency to minimize objects blurring at high speed, and an advanced positional tracking headset that would allow sensors to follow your leaning, ducking and dodging as you move around in the game. Sadly, you console kids will be left in the cold: The Rift only supports Windows based PCs and Android devices that provide the required HDMI output and USB sensor input. However, the company can't afford to ignore the console market for long, and next generation offerings from Sony and Microsoft should have the ability to hit Oculus VR's recommended 60 frames per second.
Why I Can't Wait
Many companies have taken a stab at home-use VR before but all of them have failed. What's different now is the perfect storm: the combination of a passionate innovator in Palmer Lucky, lowered costs of high quality LCD panels, industry buy in, developer support and a hugely successful fund raising campaign that's generated rabid, across the board enthusiasm about the future of the technology. It's something all of us should really be looking forward to.
Rob Pakus has been tuned into the technology and gaming since he was a young Commodore 64 user. This obsession continues today. While most people start their day with a cup of coffee, he starts his with a podcast and a cruise through the latest RSS news feeds.
Image: Oculus VR