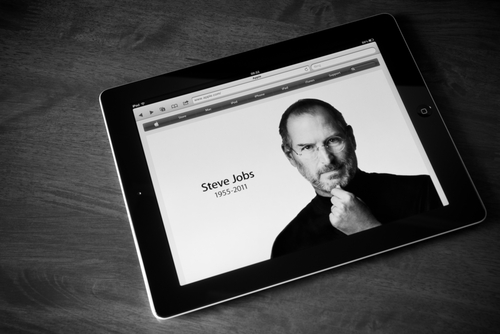 One year after Steve Jobs' death, Apple finds itself at something of a crossroads. While the company enjoys blockbuster sales and massive revenue, it's also confronted by enormous challenges. By the time Jobs passed away after a long battle with cancer, Apple had grown to dominate the fast-growing mobility segment. Its stores sold iPads and iPhones and iPods by the millions. Its rivals freely emulated the company's minimalist designs. Investors cheered as Apple's stock price climbed to new heights. The Apple products released over the past year—including the third iPad and the iPhone 5—represent the logical next steps in the roadmap designed while Jobs was still alive. The latest iterations of its MacBooks are thinner and lighter than ever, likewise an extension of a trend that began on Jobs' watch. So while pundits have spent the past twelve months questioning whether Apple can survive and prosper without its iconic co-founder, it's far too early to tell: the company continues to coast on the momentum generated under his watch. But eventually the executive team headed by CEO Tim Cook (or his successor, should be bow out unexpectedly early) will need to execute on a roadmap totally free of Jobs' involvement, if not his influence. "Among his last advice he had for me, and for all of you, was to never ask what he would do. 'Just do what's right,'" Cook said at a corporate memorial for Jobs a few weeks after the latter's death,
according to a Bloomberg report
. Meanwhile, the last year hasn't been without some high-profile issues. Although more than 100 million iOS users downloaded iOS 6, the latest version of the company's mobile operating system, complaints soon erupted about inaccuracies and other errors in Apple's new proprietary Maps app. Those complaints reached the point where
Cook had to issue an apology on Apple's Website
. "At Apple, we strive to make world-class products that deliver the best experience possible to our customers," he wrote. "With the launch of our new Maps last week, we fell short on this commitment." Apple decided to go with its own Maps app in order to give iOS users turn-by-turn directions and voice integration, which were missing from Google Maps on iOS. In the days following Cook's apology, bloggers and analysts freely speculated how the fierce rivalry between Google and Apple drove the latter to push out its own mapping app, however half-baked. While this wasn't Apple's first public apology (Jobs offered his own, not-quite-contrite apology for iPhone 4 reception issues, for example) it led some to question whether Apple could maintain its fabled internal rigor without Jobs, who was infamous as a taskmaster. Despite that minor controversy, the iPhone 5—the flagship device for iOS 6—managed to sell millions units in its first weekend of release. Meanwhile, there are indications that the iPad, long the dominant tablet, could be losing more of its market-share to Google Android. That's according to
new data
by Pew Research Center's Project for Excellence in Journalism in collaboration with The Economist Group, which surveyed 1,069 tablet owners and found that 52 percent owned an iPad, while 48 percent opted for a Google Android tablet. Some 21 percent of total respondents chose a Kindle Fire, making it the winner among Android devices, followed by the Samsung Galaxy with 8 percent. The iPad still rules, in other words, but those numbers are significantly changed from 2011, when the survey (which encompassed 1,196 individuals) found 81 percent of tablet owners selecting an iPad, followed by 15 percent for Android and 4 percent for "other." Apple is rumored to be gearing up an iPad Mini for unveiling Oct. 17, which could make things more interesting in the 7-inch tablet category.
Fortune
obtained information about that release date from an unnamed Apple investor—not exactly the most independently verifiable source, but the information does align with
earlier reports from AllThingsD
that Apple is planning to reveal a smaller iPad sometime in October. One year after Jobs' death, Apple continues to prosper despite increased competition from other device makers and a much-publicized issue with Maps. But it'll take more time—perhaps as much as one or two more generations of Apple products—to fully gauge the effects of his passing.
Image: bloomua/Shutterstock.com