[caption id="attachment_142748" align="aligncenter" width="5000"]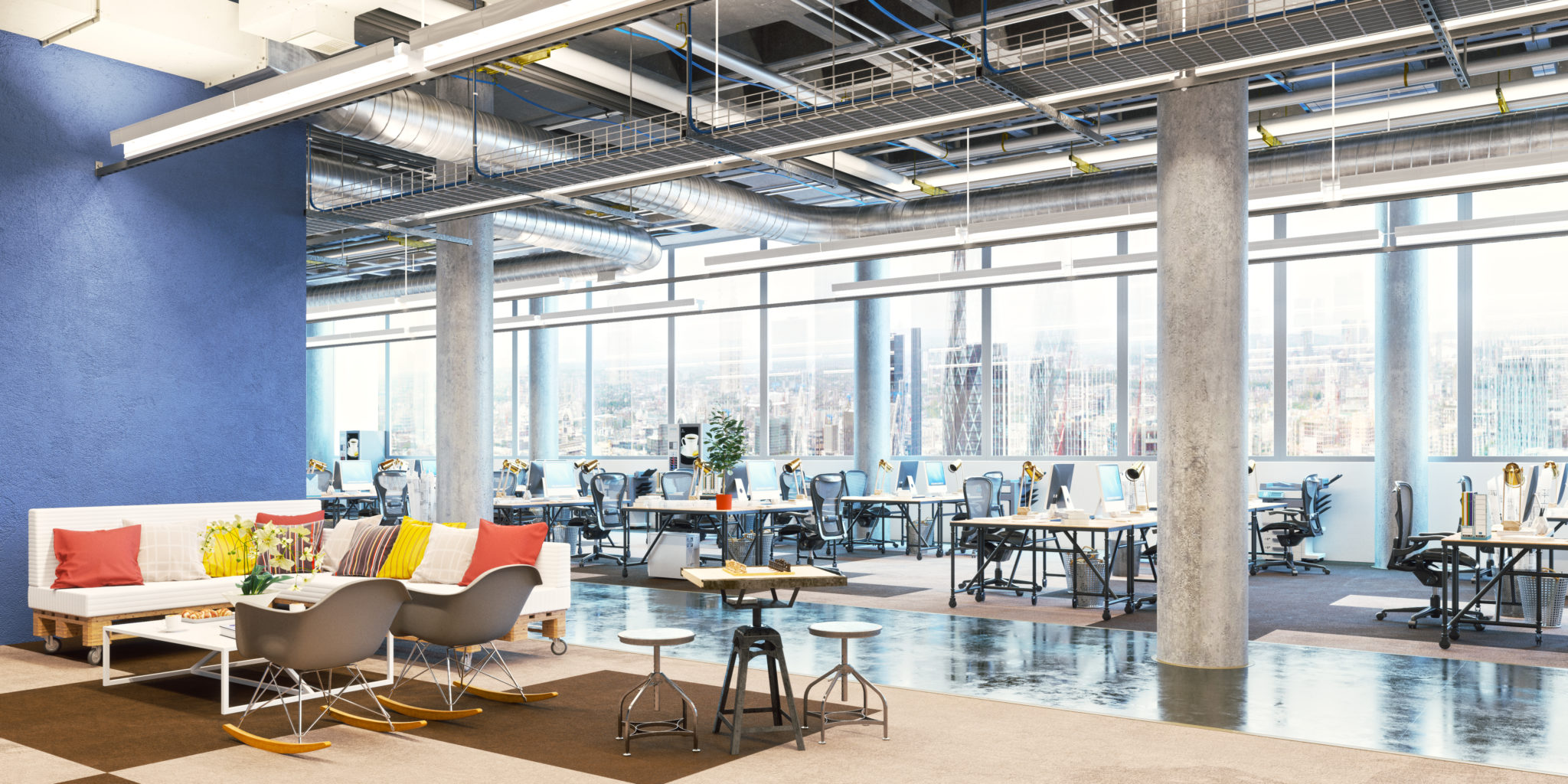 Open Office Floor Plan[/caption] Open offices are widely lamented by developers and others who like their own space, but large companies continue to hold such layouts up as bastions of good taste and productivity. For example, Apple's infamous 'spaceship' headquarters in Cupertino features an open-office design. Why are we still doing this to ourselves? Perhaps the most glaring example of an open floor plan is
Facebook's
new headquarters, reportedly the largest such design in the world. It's 10 acres of desks under a shared roof, with even CEO Mark Zuckerberg working elbow-to-elbow with everyone else. It's built to house over 2,800 engineers. Apple's new campus was well thought-out, down to the door-handles that supposedly took over a year to design. The designers wanted the doorways to lack thresholds, because (according to a
Reuters
report) "if engineers had to adjust their gait while entering the building, they risked distraction from their work, according to a former construction manager." But as
The Wall Street Journal
points out, some Apple employees are already taking issue with the design: "Coders and programmers are concerned that their work surroundings will be too noisy and distracting." While not quite a Facebook-esque version of open workspace, the spaceship nonetheless seems to prioritize design over function. A common refrain in defense of open floor pans is cost, but neither Apple or Facebook can use that one (Apple's new campus is rumored to have cost the company north of $5 billion).
Google's plan
is so open that literally everything inside is modular; the campus becomes one with the community in Mountain View as well as the green-space around it.
Are We Too Worried About the Open Office?
Two-thirds of the 42,764 respondents to a University of Sydney
study
on workplace satisfaction say they report to an open office environment. "In general, open-plan layouts showed considerably higher
dissatisfaction rates
than enclosed office layouts," the researchers concluded. "Between 20% and 40% of open plan office occupants expressed high levels of dissatisfaction for visual privacy and over 20% of all office occupants, regardless of office layout, registered dissatisfaction with the thermal conditions." Open office plans are so lamented that we penned an article in 2015 on how to
survive
them. The advice: You should minimize distractions as best you can – something more easily attainable with a proper office to retreat to. This is probably a good time to point out Dice's various U.S. offices have open floor plans with private meeting rooms. In an open space, respect matters, as does keeping meeting rooms available. Ducking into a room to take a call is fine, but squatting to finish some work isn't. (We're lucky to have a lot of respectful people at Dice.) Microsoft
strikes a balance
between open and traditional offices. At its "Developer Division" in Redmond, the company has 'focus rooms' where a developer can tuck into a codebase without worrying about who's seeing their screen. The rooms are closed off from the open area, which also houses dedicated conference rooms. A study dubbed '
The Transparency Paradox
' used field experiments to examine employee productivity in open office environments, noting "empirical evidence from the field shows that even a modest increase in group-level privacy sustainably and significantly improves line performance, while qualitative evidence suggests that privacy is important in supporting productive deviance, localized experimentation, distraction avoidance, and continuous improvement." In other words, a bit of privacy equals productivity and creativity. Based on an examination of assembly line manufacturing, the study showed that, when managers are separated from workers, productivity increased 10-15 percent. One reason is that company policy is often not aligned with productivity; employees report that when management watches them work, they're more inclined to follow nuanced rules, many of which have no direct correlation to productivity. Take a step back and your takeaway might be that employees – no matter where they work, or what they do – typically just want to do a good job and be productive. To that, it's reasonable to consider open offices a bad thing. Save for collaborative efforts and meetings, open offices have proven to undermine morale and productivity, something every company claims to be sensitive to. Corporate action and dictum don't align when it comes to open offices, so we have to wonder when they'll turn the corner and stop dumping billions of dollars into spaces that many employees don't want to be in.