[caption id="attachment_1142" align="aligncenter" width="584" caption="Oracle hopes Vitrue's software (seen above) will help with its cloud and social-media plans."]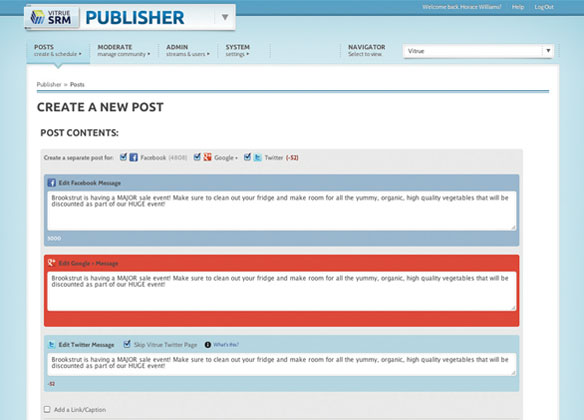 [/caption] Oracle has entered into an agreement to acquire Vitrue, described as a "cloud-based social marketing and engagement platform." Although terms of the deal went officially undisclosed,
TechCrunch
asserted in a May 23 posting that Oracle paid $300 million for the property. Vitrue's platform includes Vitrue Publisher, a dashboard that allows users to manage Facebook, Google+ and Twitter activities, and Vitrue Tabs, which lets organizations create Facebook landing pages with specialized apps and modules. The company also offers Vitrue Shop, billed as a "social commerce solution," and an analytics tool capable of tracking engagement and fan growth. Oracle will presumably graft Vitrue's capabilities into its own sales and analytics offerings in some fashion; its
May 23 press release
on the matter remained understandably vague about future plans. Oracle has been famously reluctant to plunge into the cloud with the same enthusiasm of some of its rivals. That reluctance makes sense, given how much Oracle's revenue derives from legacy (and largely on-premise) products. But it also hasn't stopped the company from embracing the cloud in its own way; in September 2010, for example, CEO Larry Ellison introduced the Exalogic Elastic Compute Cloud (also known as "cloud in a box"), which allowed businesses to create their own self-contained cloud platform. Much more recently, Oracle released Oracle Enterprise Manager Ops Center 12c, which offers centralized management for a variety of Oracle products such as Sun Server Networking, Oracle Solaris, Oracle Virtualization, and Oracle's SPARC servers. Administrators using the platform have access to centralized management of an enterprise's virtualization technologies and cloud lifecycle. Certainly the cloud and social media loom large in organizations' strategies. Oracle rivals such as Salesforce have moved in recent years to take advantage of burgeoning interest in both segments. Oracle also has an enormous interest in analytics and business intelligence software, another crucial market. A recent Gartner study placed Oracle second among B.I., analytics and performance-mangement (PM) software vendors in 2011, with 15.6 percent of the market, trailing SAP at 23.6 percent but ahead of SAS Institute, IBM, and Microsoft.