During
Oracle's
OpenWorld conference last year, one Oracle employee reportedly took SaaS to a whole new level. Rather than spending $33,540 on software as a service expenses, the employee reportedly used it for "stripping as a service" expenses at a San Francisco all-nude gentleman's club, according to a story in the
San Francisco Chronicle
.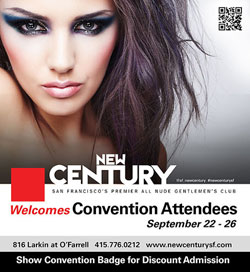 The employee, presumably in violation of Oracle's customer or employee entertainment policy, ran up his "stripping as a service" tab at
New Century Theater
on his Oracle-issued American Express card. The company has refused to pay the bill, according to the San Francisco Chronicle, and now the database giant and New Century Theater are fighting it out in a San Francisco Superior courthouse. The lawsuit says the employee, identified as Jose Manuel Gomez Sanchez, used the credit card to pay for $16,490 worth of unspecified "services" during the early hours of Oct. 2, 2012. Sanchez apparently had such a good time at
New Century Theater
, which describes itself as "San Francisco's premier all-nude gentleman's club," that he came back two nights later and spent another $17,050. No word on whether Sanchez was alone or brought Oracle customers to join in the expensive fun. Neither side is talking about the lawsuit. And as Oracle wraps up its OpenWorld this year, New Century Theatre is attempting to attract tech convention-goers by offering them discounts, though apparently not large enough to have helped keep the Oracle worker out of trouble last year. Ideally, companies are talking to their employees who receive corporate credit cards about the
finer practices of legitimate uses for these cards and how to track their expenses
. The moral of this Oracle story, besides that of being really clear about what you can and, especially, cannot purchase with company money, is that sometimes it's best to leave home without it. Which, in this case, could have several possible meanings.