[caption id="attachment_4939" align="aligncenter" width="618"]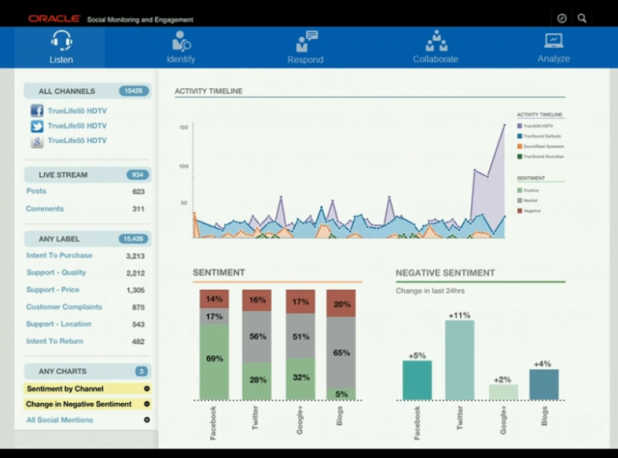 Some of Oracle's new cloud applications mine social networks for insight.[/caption] Oracle previewed seven new cloud services at its Oracle Open World (OOW) conference Oct. 2. In past years, Oracle declined to embrace cloud computing with the zeal of some of its competitors, choosing instead to focus on selling integrated hardware, software, and services to its business clients. But 2012 has been a year of big changes for the company in that regard: earlier this summer, it unveiled the Oracle Cloud, loaded with enterprise-grade applications-as-services. And now, at OOW, it's offering a glimpse at even more. The previewed services include Oracle Planning and Budgeting Cloud Service, Oracle Financial Reporting Cloud Service, Oracle Data and Insight Cloud Service, Oracle Social Sites Cloud Service, Oracle Developer Cloud Service, Oracle Storage Cloud Service, and the Oracle Messaging Cloud Service. In addition, Oracle also announced that two new cloud platform services, Analytics and Collaboration, would be "coming soon." However, it didn't indicate when those services would leave preview mode. The new SaaS offerings complement chief executive
Larry Ellison's own Infrastructure-as-a-Service (IaaS) announcement
during his Sept. 30 keynote. Ellison also took the stage Oct. 2 to discuss Oracle's social strategy. Oracle is using OOW to convince partners and developers that its cloud means business. But that hasn't stopped rivals from taking their own shots. "Oracle recently discovered cloud computing, so you can expect to be hearing about it all week," Aaron LeVie, chief executive of cloud storage firm Box,
tweeted Oct. 1
. Beginning next week, customers will be able to visit
cloud.oracle.com
and sign up for a free month-long trial to use the new services, Thomas Kurian, executive vice president of Oracle Product Development, said during an Oct. 2 keynote session. Those services will be identical to what Oracle offers on a standalone basis. "It is to give you the Oracle database, middleware, and application solution running through the Internet browser, on a software as a service basis," Kurian said of Oracle's cloud mission. "It's based on the same product set that you can run on your premise, so it's based on the same open standards." He added: "It's an integrated solution, and it gives you—it runs on the same architecture that you would use if you were running the products on your own data center, in your own private cloud. It's the broadest suite of software products available from any vendor, to a cloud." Kurian and other executives showed off cloud-based social analytics tools that mined the Web for comments on a hypothetical product, performed sentiment analysis on Facebook posts and Twitter tweets, and determined which posts indicated attributes like a willingness to buy and support complaints. The tweets could then be "elevated" to the responsible departments, and correlated with inventory and sales. The new services will be provided by four "Gen 4" data centers in the United States and one in Toronto, Canada. Other data centers in London, Amsterdam, Japan, Singapore, and Sydney will handle the rest of the world.
Image: Oracle