[caption id="attachment_4863" align="aligncenter" width="618"]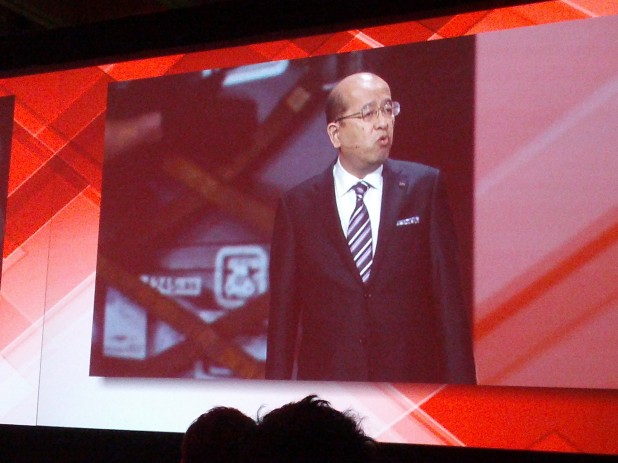 Noriyuki Toyoki, corporate senior vice president at Fujitsu, details Project Athena at Oracle Open World.[/caption] In an announcement timed to the opening of Oracle Open World (OOW), Fujitsu announced that its next-generation server architecture optimized for Big Data, Project Athena, is up and running, promising dramatically increased performance by offloading software database functions into hardware. Perhaps the most dramatic assessment of the project's performance came from Oracle chief executive Larry Ellison, who claimed that the unnamed chip powering Athena would result in the fastest Oracle database processor on the planet—presumably even faster than Oracle's own. "Oracle and Fujitsu are working on the next generation of Sparc microprocessors. And I'm going to make a promise to you," Ellison said in his opening-night keynote. "By this time next year, that SPARC microprocessor will run the Oracle database faster than any other microprocessor in the planet, and the way we're going to do it is by moving a lot of software functions to silicon." Noriyuki Toyoki, corporate senior vice president at Fujitsu, gave his own keynote ahead of Ellison. Toyoki said that he expects Project Athena will have twice the SPECint rate 2006 performance of the IBM POWER series, or about 22,445. That chip, presumably, will be the Fujitsu SPARC64 X
discussed at the recent Hot Chips conference in August
, where Oracle announced SPARC T5—and where Sebastian Turullois, a hardware director in the microelectronics division at Oracle, claimed that the latter would be the fastest, most optimized processor for driving Oracle databases. The problem, if course, is that Fujitsu might not even be in the chip business long enough to make Athena.
Bloomberg reported
that Fujitsu has retained UBS to sell off the unit, said to be worth as much as $2.6 billion. But if such a deal is in the works, Fujitsu gave precious little sign of it at OOW. Toyoki described how Big Data could help solve the world's problems, whether by using data collected from a pool of patients to predict diabetes, or else to tag orange trees with sensors to measure attributes such as temperature and humidity. In the latter case, by amassing the information into a database and analyzing it, farmers can increase the quality of premium oranges by harvesting them at the peak of their freshness and taste. Fujitsu's partnership with Oracle on Athena is meant to better collate massive amounts of data, providing analytical tools for the world's chief executives, researchers, and other decision makers. "Let's face it—data is growing at an overwhelming rate, and we are going to need a system... that meets the needs of the future," Toyoki said. "In order to meet the needs of big data, we need to develop a completely new concept." Athena shares some of the same DNA as the K computer, specifically its SIMD architecture, Toyoki said. The K Computer is
the second-most powerful supoercomputer in the world
, according to the TOP500 list, and uses 2.0-GHz SPARC VIIIfx chips. Outside the CPUs, data will be passed through a high-speed data interconnect. As of last week, the Athena prototype was up and running, he added. Athena will have up to 16 cores, with up to 512 GB per CPU. When a four-core processor is installed, up to 2 terabytes of memory can be configured. All told, up to 32 terabytes per system can be added, Toyoki said. The key to database performance is freeing the CPU from as many of workloads as possible, said Andy Mendelsohn, senior vice president of Oracle's database server technologies—part of the strategy for Oracle's latest Exabyte servers,
which Ellison announced in his own keynote
. "And the whole idea is that we can move database processing on the chip," Mendelsohn said. Athena achieves that, achieving dramatically higher scores in numerical performance, cryptographic functions, and hashing through on-chip optimization: 162X performance versus a SPARC64 VII+ running at 3.0 GHz, and 430X performance in a SUM (8B+8B) function. Toyoki didn't announce a ship date, however.