Apple's iPhone and iPad are achieving a high penetration rate among businesses, thanks in no small part to the Bring Your Own Device (BYOD) trend currently in vogue among IT administrators and CIOs. In turn, that growing segment of employees wants the ability to view and analyze work data on their iOS devices. Therein lies a significant opportunity for IT vendors building B.I. applications. Indeed, a number of the world's biggest (including Oracle, SAP, Salesforce, and IBM) have already managed to load up Apple's App Store with their respective wares. Other companies, including Microsoft, plan to port their B.I. products to iOS and Android in the near future. For those SMBs and individual contractors who don't rely on B.I., a selection of apps from other purveyors—including Dropbox and Apple's Numbers app—still allows for the storage, management and visualization of data. The following list offers some of the more prominent B.I. apps (along with a couple of numbers- and storage-related ones) available for iOS: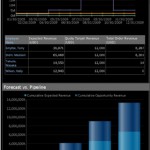 1. Oracle Business Intelligence Mobile Price:
Free (with licensing) This mobile application surfaces content from Oracle Business Intelligence. Features include alerts, visualizations, KPIs/Scorecards, reports, and dashboards. Although free to download onto one's iOS device, the app requires Oracle Business Intelligence (Release 11.1.1.5; not compatible with previous versions).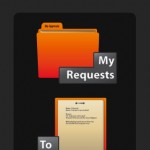 2. Sybase Mobile Workflow 2.1.2 Price:
Free (requires Sybase Unwired Platform server connection) Sybase, an SAP company, offers this app for those workers who want to log into SAP Business Suite while on the road. Among its features: Universal Worklist notifications and alerts, the ability to process workflow items, and clock-in/clock-out capabilities.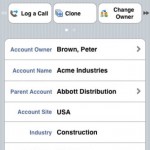 3. Salesforce Mobile Price:
Free (for Salesforce customers) Salesforce's app lets users create, edit and delete CRM data, access account activity, and view custom Visualforce mobile pages. The company's other iOS offerings include a mobile version of its Chatter enterprise collaboration tool.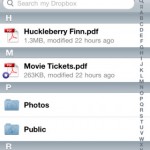 4. Dropbox Price:
Free An app for cloud storage, with the option to save email attachments directly to a Dropbox, quickly share files with connections, and view materials offline (via "Favorites"). Not a B.I. tool, technically, it nonetheless offers a more secure place to store spreadsheets and other data.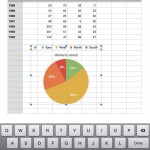 5. Numbers Price:
$9.99 Granted, this Apple-built app is more about spreadsheets than business analytics, but it can still help a business user organize and visualize information. Its formulas can perform some 250 functions. The app will sync data between the user's Apple devices via iCloud.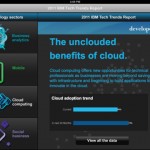 6. IBM Cognos Mobile
Price:
Free Built to work with IBM Cognos Mobile server versions 10.1.1.0-10.1.1.3, this app features a plethora of B.I. dashboards and extremely visual reports.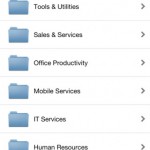 7. Citrix Receiver
Price:
Free (requires Citrix) Via this app, users can access applications stored on their desktop, as well as view secure data without downloading it to their device.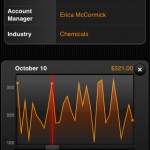 8. Roambi Analytics Visualizer
Price:
Free (requires Roambi Analytics Publisher) This app visualizes Roambi reports in colorful ways.