[caption id="attachment_4923" align="aligncenter" width="488"]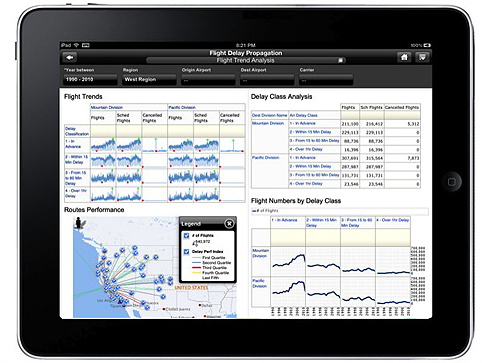 Oracle's new business-intelligence software emphasizes mobile capabilities.[/caption] Oracle uses its Oracle Open World (OOW) conference as a show of force, rolling out a bevvy of new products and services it hopes can keep businesses in its corner, as opposed to embracing rival offerings from the likes of Salesforce and SAP. This year,
Oracle CEO Larry Ellison and other executives
have detailed several initiatives designed to accelerate the company's move to the cloud, including its own private cloud and Infrastructure-as-a-Service initiatives. Oracle also unveiled Oracle database 12c (the "c" stands for "cloud") and new Exadata servers that emphasize in-memory storage with flash memory as a fallback. "We're adding a new line of business, cloud computing, to our traditional lines of business: selling software and selling hardware," Ellison said
during his keynote
. "We own it, we manage it, we upgrade it—you pay a monthly fee for what you use." Oracle is also using OWW to announce a new release of
Oracle Business Intelligence
(BI), emphasizing the enhanced mobility and the ability to visualize massive amounts of data; it can be deployed on-premises or in the cloud. The platform is part of Oracle Business Analytics, which itself includes more than 80 business intelligence and performance management applications. In the time of streamlined mobile access, Oracle designed the application with live thumbnails and the ability to search both online and offline content; new supported gestures include swiping pinching, tap-and-hold, and tap-and-drag. Administrators have the ability to grant (or revoke) the ability to save offline content, a granular security feature necessary when you have dozens or even hundreds of road warriors trying to access the same collective datasets. New visualizations include ultra-dense Trellis views, Microcharts (such as SparkLines and SparkAreas), and line geometries in geospatial visualizations, for visualizing linear data. Oracle has also optimized Oracle Business Intelligence for the Oracle Exalytics In-Memory Machine, a system for delivering high-performance analytic and performance management applications. "Mobile devices, such as the Apple iPad, are becoming ubiquitous productivity enhancing tools across the enterprise," Balaji Yelamanchili, senior vice president, Oracle Analytics and Performance Management Products, wrote in an Oct. 2 statement. "With the latest release of Oracle BI, users have access to business altering data with the swipe of a finger." Oracle faces some fierce competition in the B.I., cloud and mobility spaces—not only from the aforementioned Salesforce and SAP, but also IBM, Microsoft and a host of smaller companies all anxious to carve off a piece of the market for their very own.
Image: Oracle